Guest Post by: Bridget Staroscik O'Reilly
I hadn't bee in Italy very long when I set out to see St Peters with a fellow traveler I had recently met and we got lost. Getting lost is exhausting, and it also makes you very hungry. After wandering Rome's streets for a few hours, trying in vain to find the entrance to St. Peters, we decided we wanted to get something to eat.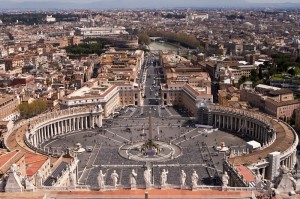 Not being very familiar with how things went in Italy we passed a few restaurants that seemed too intimidating. Finally we came upon a place sort of across from St. Peter's Square that had outside seating.  It was a beautiful day so we grabbed an open table with menus on it and proceeded to try and figure out what to have for lunch. This is where we ran into a problem. We couldn't tell what anything was. I eat a fair amount of Italian food at home, but this menu was undecipherable.
Determined not to be bested, I pulled out my Rick Steves phrase book and tried to decode the menu to no avail. It was almost like reading Greek. I felt pretty stupid I mean I couldn't even find these words in the phrasebook in English or Italian. I had been through the entire ''at the restaurant' section by the time the waitress finally came up to our table. In Italy a meal is an event of sorts and no one seems to be in a hurry, even the wait staff, so we had been there for a bit at that point.
I didn't say anything at first, completely lost as to what anything was. I was pretty well starving and I didn't want to end up with something gross so I figured I had no choice but to admit it. The waitress spoke English and it was unlikely I was the first hungry tourist to ask for a menu translation. I was about to ask a question when my fellow traveler spoke.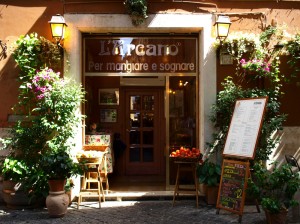 I assumed she would be asking for help too, since we had been sitting at the table for the last 10 minutes frantically checking our phrasebooks. I assumed wrong. My fellow traveler was apparently determined not to be seen as a tourist, so rather than ask questions, she just ordered something off the menu in the most atrocious Italian accent you've ever heard. In fact it was so bad it didn't even sound like she was speaking Italian words.
I could tell from the look on the servers face that she was struggling not to laugh. Pretending not to notice, I asked her what an aubergine was in my obviously American English. She didn't answer just looked at me in confusion for a moment and then she reached over and took the menu I was holding and really looked at it for the first time.  A moment later her expression cleared and she smiled. "You have a German menu."
Apparently since it was a tourist spot and it would be impossible for every server to speak all languages, the restaurant solved this problem by issuing menus in various languages. It turns out I could have struggled with my phrasebook for a week if Sunday's and the only way it would have helped at all was if it has bee in German.
Guest Post by: Bridget Staroscik O'Reilly