Germany's bustling capital city of Berlin is spread out along the scenic Spree River and flanked by a backdrop of historic buildings, castles, Gothic cathedrals and World Heritage sites. Visitors to this great city staying in one of the many Berlin apartments or hotels will find a wide range of eating opportunities. International, American, Italian and traditional Austrian and German fare can be found among the many restaurants ranging from fine dining to casual corner pubs and street side imbiss, or snack, shacks.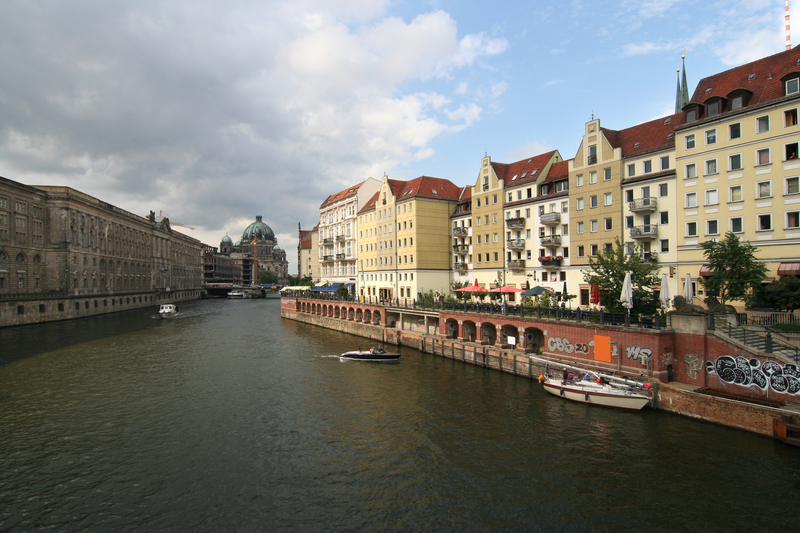 To get a taste of the culture and vibe of an area, the local snack shacks and outdoor take-out places should be at the top of the list. Alain's Imbiss, near the U-Bahn railway, specializes in ketwurst;, a grilled sausage smothered in sauce and then placed in a toasted roll. Faithful fans know that the long lines are worth the wait at Curry 36, one of the best places to go for currywurst, curried sausage. Order at the window and then join a neighbor at the high plastic tables outdoors.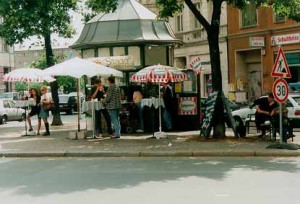 Sophieneck serves traditional pub fare along with tales of friendly ghosts that enjoy a brew or two. This interesting eck, or corner pub, is a fun choice for a casual lunch or dinner. It is at home among historic buildings, museums and theatres in the middle of Spandauer Vorstadt von Berlin.
Try Julep's New York Bar and Restaurant for a night of jazz and laid-back American burgers, fries, steak and seafood in a casual brick bedecked building. Der Goldene Hahn serves traditional Italian pasta dishes and salads. Outdoor dining is available.
A 19th century brewery is home to Maxwell where a world of character blends with European cuisine and an extensive wine list. Dine in the outside courtyard during the warm months. Turnip and saffron soup and lobster and rabbit with mango cabbage salad are just a few of the tempting choices Maxwell's menu has to offer.
Jules Verne, named for the author, has a global menu of novel names and serves breakfast until 3:00 p.m. 20,000 Leagues under the Sea is an orange crab salad with marinated tuna and salmon accompanied by a horseradish and celery mousse. Journey to the Center of the Earth consists of three eggs on crispy fried potatoes and Around the Moon is your choice of eggs, scrambled, fried or in omelet form, served with bread and butter. Other specialties include smoked veal, Provencal fish soup with red mullet, scallops and aioli, chicken satay marinated in peanut sauce and Wiener schnitzel with warm potato salad.
Serving Austrian and German cuisine among dark wood antique furniture and a grand piano, Aigner is fine dining at its best. Located within the Sofitel Hotel in Berlin's Gendermenmarkt place, it offers incredible views of French and German cathedrals and the concert hall Schinkel's Konzerthaus. Gendermenmarkt place is one of the city's most beautiful and busy urban squares with shops, fine restaurants, glamorous hotels and many apartments in Berlin. During the Christmas season the square becomes a festive Christmas market.
Aigner's food is locally grown and purchased fresh from the local markets. The menu includes seasonal salads with wild herbs and sprouts, lamb, smoked ham, roasted mullet, octopus, seafood and veal. Specialties include veal dumplings with beetroot and mashed chive potatoes, Wiener schnitzel with potato-cucumber salad and cranberries, organic beef and farm duckling with white cabbage and potato-cakes.
Aigner moved from its original home at Café Aigner in Vienna, which was built in 1903 in Vienna's Linzerstrasse. Closed in the late 1980s, it has delighted many faithful followers with its return to Berlin. Diners can enjoy the open-air atmosphere of the spacious terrace during the summer season. The restaurant is also available for business meeting meals and small events.
No extended stay in Berlin will complete without trying one of these fantastic dinning experiences.