When one thinks of France, visions of the Eiffel Tower and even the Louvre may quickly come to mind. Wandering off the beaten path may open the doors to some other hidden gems of France. Reims is one such gem and you soon learn it offers something more to see while staying in France than the city of love.
Getting to Reims from Paris may be easier than you think. The ancient Roman city is located 80 miles northeast of Paris and can be accessed via TGV – France's high-speed rail service. Each leg of the trip takes less than an hour and round trip fare is generally around €40-€50, but can cost less during non-peak times.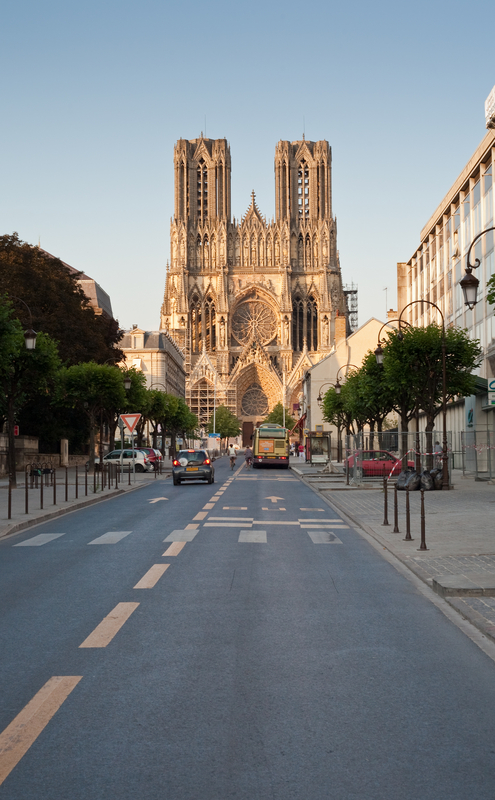 In French monarchial history, Reims gained some notoriety as the site where the crowning ceremonies for French kings took place. That said, it is rich in culture and is home to a host of historic sites for the yearning tourist. As the largest city in the Champagne region of France, there's plenty to see and do. The best part is it is small enough to be explored on foot – no rental car is needed.
The Palais du Tau: This historical building was the French Bishop's palace in the city. Home to several historical artifacts, it currently remains a museum which contains sculptures and works of art, such as the chalice of Saint Remi and Charlemagne's talisman. Hours of operation depend on the season. During peak season (May to September), the museum is open from 9:30 a.m. to 6:30 p.m. If you visit during off-peak months, those hours change to 9:30 a.m. to 12:30 p.m. and 2:00 p.m. to 5:30 p.m. Visitors should take note that the palace is closed to tours on Mondays. Museum tickets cost approximately €7 per person.
Bibliotèque Carnegie: This 20-century building is an extensive library that houses an impressive collection of rare historical manuscripts. Several of the manuscripts here date back many centuries. The library interior is also notable for its lavish architecture and design.
Champagne Houses: Reims hosts several champagne houses – including some of the world's largest producers of the drink. Major champagne producers such as Mumm, Veuve-Cliquot and Taittinger all own and operate cellars in the city of Reims. Tourists can not only tour these facilities to witness how the beverage is made, but they are also given an opportunity to taste the bubbly for themselves.
Taking a detour from Paris to Reims opens a door to the beauty that makes this whole region of France a top tourist destination. Leaving Reims may be the hardest part of going there for a visit.