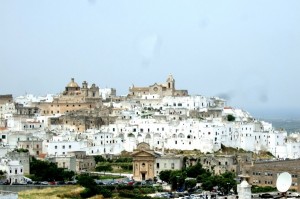 Guest Post By: Margie Miklas
Sitting high on a hill and gleaming brightly like a star in the night, Ostuni has become a popular resort city in the not so touristy region of Puglia, situated in the "heel" of Italy.  Ostuni is called the White City, or Città Bianca, and once you have been there, there is no question as to how it acquired this special name.  Mandated by local statutes, all the buildings are required to be painted with white limestone each year, so the city appears to shine especially at night.
Ostuni has long been known as a vacation spot for the Italians, and more recently other Europeans, Australians and Americans. Since the city is still a work in progress as far as tourism goes, English is not frequently spoken except by the hotel personnel. In addition, the transportation system consists largely of a piedi (on foot) or taxicab.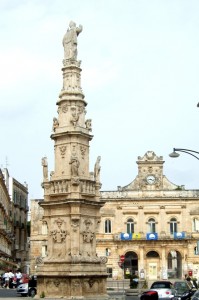 Ostuni has a train station at the lower portion of the city, and to access the centro storico, or historic center, you can take a local shuttle bus for less than a euro. There is very limited public transportation to access other smaller towns like Cisternino, Alberobello and Martina Franca, so a car would come in handy if you want to take day trips from Ostuni to towns without train stations.
Home to 32,000 people, Ostuni is not that big, and very easy to wander around sightseeing on foot. Its main piazza is Piazza della Libertà, and in the center is the famous 18th century Baroque obelisk, which is dedicated to Saint Oronzo, the patron saint of Ostuni. Taking the uphill walkway, via Cattedrale, just off the piazza, you can check out the varied small shops and restaurants along the way, until you reach the highest point. This is where Ostuni's impressive 15th century Gothic cathedral stands.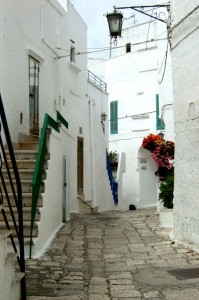 The real enjoyment of wandering around the city is the intricate arrangement of narrow alleys and arched entrances to different streets, accessible only on foot. Around every corner, the scene is a surprise and the charm comes in getting lost, much like in the larger touristy city of Venice.
Another draw of Ostuni is its pristine sandy beaches, a mere 7 km away. Many of Italy's beaches are rocky and the sand is full of stones, but here the sand is white and beautiful. Although there are small areas of public beach, most are developed into beach clubs where you can rent a cabana, lounge chair and more. Some even have swimming pools and pavilions which serve meals, as well as provide sports events and have live music and dancing.
Along the drive to the beach the area is full of row after row of ancient, centuries-old olive trees, whose trunks have become twisted because of the weather. They truly are a sight not seen in other parts of Italy.
Puglia has some of its own specialties when it comes to food and Ostuni is no exception. I tried a pasta dish called fazzoletti at the Ostuni Palace Hotel. It was delicious, and I would recommend it to anyone who has not ever heard of it. The pasta is made with buckwheat and shaped like ravioli. Inside it is stuffed with pancetta and ricotta cheese and topped with tomatoes and arugula. Mmmmmmm.
Other articles by
Guest Post By: Margie Miklas