Just forty minutes southwest of
Berlin
is the historic city of
Potsdam Germany
. Made famous in modern times by the 1945 World War II conference, this home to Prussian kings boasts numerous lakes, several significant cultural landmarks and Germany's largest World Heritage Site. Visitors staying in one of the many
Berlin apartments
or hotels for a extended time, find taking a day trip from the capital of Berlin to Potsdam will be enthralled by the architecture, palaces, gardens and distinct historic districts of this city of higher learning.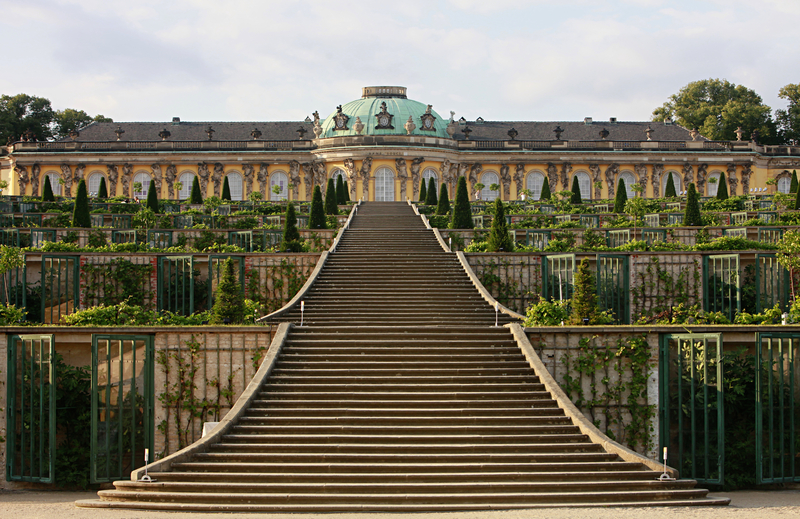 The first stop for any trip to Potsdam should be the summer home of Frederick the Great. Sanssouci Palace and its terraced vineyards were built in the mid-1700s. Visitors to this German rococo style building can view masterpieces by Panini, Pesne and Watteau. As you stroll through the palace and the adjoining park, admiring the graceful mix of architecture and nature, you'll understand why this became a World Heritage Site in 1990.Admire the fascinating architecture of the mansions as you wander through the Neubablsberg district. These opulent structures, designed by Grenander, van der Rohe and Muthesius were the stately homes used by Stalin, Truman and Churchill. You can experience the intrigue of the Cold War at the Glienicker Bridge where spies were exchanged. Sightseers can meander through the gabled brick homes of Dutch Quarter and tour the Potsdam Museum and its collection of artifacts reflecting local culture from 17th century to the present. The area is also full of trendy boutiques, bars and restaurants. Visitors will marvel at the ornamental log cabins and Orthodox Chapel in the
Russian
enclave of Alexandrovka and the history of the
German
film industry on display in the Potsdam Film Museum.
When it comes to dining, Potsdam has a variety that will please any taste. You can spend time in a romantic street café, enjoy a fine meal in a fashionable fish restaurant and then visit a genuine Italian ice cream parlor and partake of the decadence that it has to offer. The cuisine found within the city also includes Greek, Chinese and French. There is a dining experience to please every palate and budget.
Potsdam is also home to many institutions of higher learning. It all began when The Royal Prussian Geodetic Institute was relocated to the city from Berlin in 1892. It was here that the absolute weight of the planet was determined. This passion for knowledge continued with the opening of several other colleges and universities that include the German College of Film in 1954 and Potsdam University in 1991. As a result, this college town has a vibrant night life.
By staying in a hotel or apartments in Berlin a couple extra days, visitors will find that with its combination of museums, parks, shopping and leisure activities, Potsdam is well worth the thirty five kilometer drive from Berlin.