Almost another full day in London before my evening flight back to New York, and not wanting to waste a day, I decided a day adventure was needed. Today I thought, why not head out early to the city of Windsor and Windsor Castle.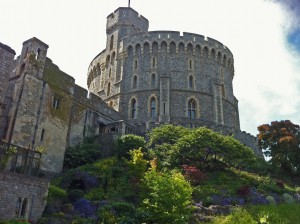 A quick check on the Internet showed many tours available from London, bus routes available and the train. For this day trip I opted for the train. So once again with Oyster card in hand, it's the only way to get around on London's underground if you are going to be spending anytime in London.
Jumped on the Circle Line from Gloucester Station with a quick transfer at Embankment Station to the Bakerloo Line and one stop later brought me to Waterloo Train Station.
Waterloo Train Station to Windsor would be on South West Train, I purchased a round trip anytime ticket for 15.80 pounds because of the time I was going, an off peak round trip between Waterloo and Windsor could be bought for 10 pounds if your time is more flexible.
One of things I like about these day adventures in London is the different architecture you get to see around the city. This day as I was moving along the train I was admiring the steel and glass roof of Waterloo Train Station overhead when I heard the train doors close, looking at the train, I saw the conductor waving and smiling as the train pulled out of the station with me still standing on the platform. I think the conductor liked that, not a problem, trains leave every 30 minutes so I had more time to enjoy the architecture of Waterloo Station.
Travel time between Waterloo Train Station and Windsor was a quick hour. Arriving at the Windsor Eaton Station in Windsor I decided to head straight to Windsor Castle, since my goal on setting out on this day adventure was to see the castle, I might as well head there first.
As you walk through the town of Windsor coming from the train station you cannot miss the castle rising on the hill to your left. A very impressive sight to see, I made my way along the base of the castle and following the hordes of people, yeah I said "hordes" since Windsor Castle is one of the most popular tourist destination when visiting London, one would expect to see a lot of tourist. Rounding the corner towards the entrance I did not expect to see the line of people that made its way down the side of the castle walls waiting to be admitted into Windsor Castle. Today there had to be at a least a couple hundred people waiting in line. OK, maybe I won't be going inside the castle today I thought. I proceeded to walk along the line of people and headed to the back of the castle to Windsor Great Park.
Windsor Great Park, a fantastic setting, large green grass that stretches forever and a forest just sloping away from Windsor Castle, I figured this could be a great place to spend some time just walking around. Yet reminding myself that the goal for today was to see the castle, I started back towards the entrance. The line of people was still there. Upon reaching the front of the line, I overheard someone say "that this line was for tour groups, if you are on your own you could precede straight in". Fantastic, no wait in line, I was in the castle in a matter of minutes after paying my Adult £9.00 admission, Children were £8.00.
Now I am not going to bore you with a blow by blow description of Windsor Castle, what I will say is that on your next visit to London it would be well worth the trip to see this magnificent castle and to admire the history that can be found here. In all I spent a little over 2 hours enjoying all that Windsor Castle had to offer.