With a population exceeding three million, Madrid is the third-largest city in Europe, and a global leader in politics, education, science, entertainment, fashion and the arts. Madrid's culinary arts are also world-renowned, with a wide variety of restaurants catering to every imaginable nationality and palate. Of course, most visitors to Madrid want to experience the local cuisine and restaurants, of which there is also a vast variety.
So you have settled into you Madrid apartments or hotel and now want to experience the various local cuisines the city has to offer. With so many restaurants to choose from where does one start? Well to be honest, where ever you start you will not be disappointed.
A good starting point may be the Botin Restaurant, which is listed in the Guinness Book of Records as the oldest restaurant in the world. In business since 1725, Botin counts as former clientele such notables as the artist Goya and Ernest Hemingway. Among Botin's specialties are roast suckling pig and roast lamb. The history alone is worth the visit, and the experience is one not soon to be forgotten.
You will find style of Madrid's restaurants range from traditional to bistro, flamenco to modern all the way to gourmet. Along with Botin, other notable traditional Madrid eateries include Las Cuevas de Luis Candelas, Cafe de Oriente and Restaurante El Rocio. For those wishing for a casual experience featuring music and a relaxed atmosphere, La Mariachita (featuring Mexican cuisine), Café Oliver (Mediterranean dishes), and the Italian-flavored Marcellino Pasta e Vino may suit the mood. For flamenco lovers, as well as aficionados of authentic Spanish cuisine, El Corral de la Pacheca is for you. For those preferring a more contemporary adventure, modern Madrid eateries such as El Rancho Asador Argentino, Sushiwakka Serrano, Picanha (Brazilian) and the Scandinavian-themed Olsen are certain to satisfy the most demanding of appetite. For gourmet dining, Goizeko Kabi Madrid, featuring Basque cuisine, is a local favorite, and for an international flavor, don't miss Horcher, which offers fine dining amid a luxurious mansion and is widely acclaimed for its' game dishes (venison, wild boar, wild duck).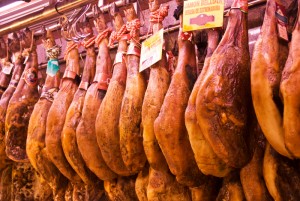 Gallinejas, or fried sheep entrails, might appeal to the more daring diner. Other local favorite dishes which the adventurous diner may wish to sample include Bocadillo de calamares, or fried squid rings. Another
Madrid "delicacy" is Callos a la madrileña, which consists of calf or lamb's tripe, blood sausage, and the snout and hoof of a cow.
One of the nice things about staying for a while in one of the many hotels or apartments in Madrid that are available, is getting to know the ins and outs of the city, with so much to do throughout the day you will have plenty of opportunities to try the local cuisine and restaurants Madrid has to offer.