Guest Post by: Bridget Staroscik O'Reilly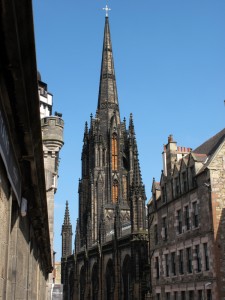 I stood staring into the center of the stone circle and felt myself being pulled towards it. Sure it looked harmless, a simple circle traced out in old rocks in the center of a dark dank damp room. Still this circle was different; at least according to the tales. As the rumor went, anyone who stepped into this circle would die within weeks of their entrance, or, and this was the scariest part of the story… wish they were dead.
There was a story about a perfectly healthy girl who had ended up inside the stone circle as a result of some general roughhousing. Less than two weeks later she was dead, the victim of a tragic and previously undiagnosed medical condition.  Then there was the guide who lost his balance after he tripped and ended up inside the circle purely by accident. He had another accident shortly afterwards, while driving his car. He ended up a vegetable. No longer able to walk or speak.  Some said he was trapped inside his own body, a prisoner of his insanity.
Are these stories true? I told myself I didn't believe them. Of course that didn't mean I wanted to risk it. There in the underground of Edinburgh's Royal Mile, the ghosts of both the past and the present seemed to push in on us from all sides. Was this stone circle in the room cursed as the guide said? He really seemed to believe it himself. He swore as much while we shared a pint in a nearby pub after the tour. Maybe he just liked to put one over on gullible tourists.
I'm not gullible, well not very, but there in the underground city where so many people had died and even more had lived lives almost completely devoid of hope, almost anything seemed and felt possible. The old city of Edinburgh, both above ground and below, is a place where you believe in things that go bump in the night. It is a place where ghost stories are told with a straight face and a visit alone to a bathroom has you seeing shadows in the mirror, hearing noises you can't explain and swearing off liquids.
Being scared is part of the fun when you visit Edinburgh. A walking tour elicits a story of restless spirits lurking in almost every house along the Royal Mile. A seemingly innocuous parking spot a possible gravesite of one who dared to cross the queen. A modern high rise hotel is said to be home to a non paying guest, a peculiar otherworldly fire bug. Even the streets themselves are haunted. Most notably Mary Kings Close, where the spirits of the plague victims still protest the way they were walled in and left to die.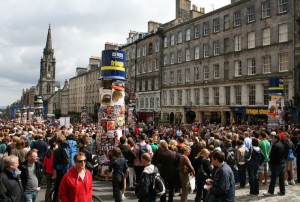 There is plenty to do in Edinburgh during the day; shopping and eating in both the Old Town and the New Town. There are the monuments, museums and a palace or two. In the morning and afternoon the cities both new and old side by side, belong to the living. The nights belong to those whose body of work is performed, well, without a body. The creepies and crawlies and things that go bump in the night. Even if you've convinced yourself you don't believe, just go along for the ride anyway.  Just don't go alone…
Other recent articles by
Guest Post by: Bridget Staroscik O'Reilly @ Kickmeimdown

Driving in Ireland Without Driving Yourself Crazy

Ireland, By Lough Sheelin's Side

Ireland, Newgrange at Sunrise, Sort Of
Finding Your Place in Dublin's Fair City
Have you any experiences of staying in Edinburgh? Visited other parts of Scotland? Do you have any advice or recommendations for our readers?
Share your feedback in the comment section below
There are several Ghost tours in Edinburgh . One well known tour company Auld Reekie Tours offers a variety of tours including visits to the underground vaults. They also offer above ground tours for the claustrophobic. They can be found at http://www.auldreekietours.com . Some hotels and hostels offer their own ghost walking tours for a nominal fee. If you keep your eyes open you'll likely find a tour that suits your interests.