Guest Post by: Bridget Staroscik O'Reilly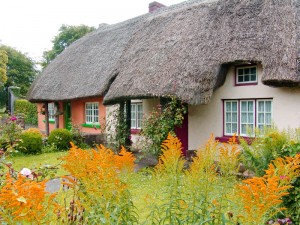 When traveling in
Ireland
for a longer period of time a self catering cottage is the best way to go. A home of your own can be a peaceful oasis with the chaos of traveling. It also gives you the chance to live like a local. You can learn more about a place from a grocery store than from a hundred historical sites. A trip through the grocery store not only tells you what people eat, or don't as the case may be, but a lot more. In fact, one of the best things about shopping at a store in Ireland is the magazines. There are daily or weekly publications on everything from fashion to news, and celebrity to tabloids. Reading a daily newspaper is a great way to get a feeling for how different the place you are is from where you're from.
Another plus of getting a cottage is that it gives you a freedom you don't have when staying in a hotel. Life in a hotel gives you the illusion of freedom and privacy, but on some level you're at the whim of others. Maids come in and clean on their schedules and if you're like me, you feel like you can't leave the room a mess for the maid to see so you spend a half hour running around picking stuff up and making beds before you leave for the day. When you rent a self-catering property it is yours and while you shouldn't trash it obviously, you have a little more flexibility of how you leave things when you go out for only a short time.
B & B's are a big part of the lodging business in Ireland as well. These have pluses and minuses. One big plus is the standard Irish Breakfast which is the second B. This may be one of the best ways to start a day of sightseeing. It is also a great way to have to start buying bigger clothes. Another positive of the B& B is that, if you have a good hostess you can learn a lot about the area and maybe even learn about their life running a B & B. They can give you a chance to talk to a local about what Ireland is like for a person who lives in it.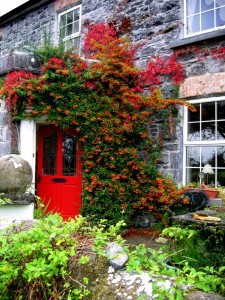 Given all the positives, it might sound as though a B & B is the way to go, but there are some negatives. B & B's generally charge per person rather than per room. If you're traveling with a large family that may end up being expensive. The final reason I personally prefer self-catering to B & B is that, no matter how nice, no matter how helpful and regardless of the fact that you're paying, at times handsomely, for the privilege; you are still in someone else's house. As a guest, even a paying one, you need to make sure you keep your voice down and that you aren't coming and going in the middle of the night and generally try to behave in the manner of a polite house guest.
Ireland isn't large, but the roads are sometimes one lane and crowded which makes travel more time consuming. This landscape makes a combination of lodging something that I have found works best. A centrally located self-catering property to use as a home base, and then an overnight stay here and there at either a local hotel or B & B. This gives you the chance to see the country without having to pack all of your belongings into the car every single day. Speaking as someone who tends to end up with too much stuff almost on arrival that sounds like the best reason of all.
Other Ireland articles by
Guest Post by: Bridget Staroscik O'Reilly @ Kickmeimdown
Have you any experiences of staying in Ireland? Visited other parts of Ireland? Do you have any advice or recommendations for our readers?
Share your feedback in the comment section below