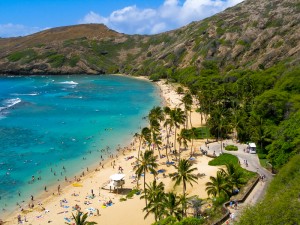 Guest Post by: HNLhulagirl
This stunning bay on the island of Oahu was once a quiet little fishing spot where one needed to park along side the road on top and hike down the service road to fish, swim and enjoy the clear waters and white sand beach. In the old days, the reef was always a popular spot for island residents to catch small fish like aholehole, aweoweo or wekeula or o'io to take home and fry for family evening meal. It was a favorite spot of younger, stronger fishermen since the hike into and out of the crater was strenuous, especially with wet nets and a day's catch. Eventually, it became a place where the young and lively set would gather to socialize, swim surf and sun.
Today Hanauma Bay is a bustling water sports and snorkeling paradise. The fish still thrive in the clear, warm waters, protected by government regulation and carefully monitored to preserve the natural experience of one of the most beautiful coves in the world.
The bay opens early in the morning, just after sunrise everyday except Tuesdays. City personnel prepare the bay for the continuous showings of the ocean awareness video program. Lifeguards check their radios and safety gear and assess the ocean conditions for the day. The snorkel rental stand opens for business with buckets filled with fins and snorkels of all sizes. The concession stand brews fresh coffee and cooks rice for plate lunch specials. By this time, the ticket booth is already the scene of a short admission line for those who want first choice of the perfect spot to launch their day with the fish. The bay is best in the morning. Water is clearest and calmest, mynah birds are heard squawking in recesses of the kiawe trees, and the bay seems as peaceful and pristine as ever, at least, for the moment.
The crowds from slowly in the morning. It seems like no one wants to rise early on a Hawaii vacation even for the fish. However, gradually rental cars begin to arrive filled with sun-screened tourists with towels and beach gear in hand. The first of many #22 city buses opens doors on squashed-in tourists who have boarded along Kuhio Avenue and paid a mere pittance for a one way trip to an experience of a lifetime. There is also a parade of various tour vans that bring divers that range from the novice to the ultra-certified. Underwater masks, tanks, wet suits, fins, gauges and other gear make their way to the shoreline with the help of a barrage of tour personnel.
There are several ways to visit Hanauma Bay. The simplest although not necessarily the easiest is to drive. This way is best for those who have kids or a large family or who are planning a visit as a part of a day exploring the Kaiwi coastline and Windward areas of the island. The parking lot at Hanauma has been expanded several times, but it never ever seems to be large enough for all who want a space. It's best to arrive near 9:30 a.m. or the parking lot wait will cut seriously into sun and snorkeling time. One of the ways not to visit Hanauma is by getting in any taxi cab that approaches at a bus stop or anywhere else for that matter. Crafty taxi drivers love to make a quick buck by gathering the bay-bound into a cab along the bus routes in Waikiki. Cruising for fares or hailing cabs along the curb in Hawaii is illegal. If a cab is required for a day at the bay, get one from one from a hotel rank at anyone of the large hotels.
Once on the beach, visitors will make their way into the bunkers and hallways and homes of a myriad of colorful fish. The aholehole, aweoweo or wekeula and o'io that were easy pickings of a devoted fisherman have now become the stars of the show. There are other fish like manini and kole that are not as tasty but are a joy to see swimming in abundance and unencumbered by aquarium glass. There are a few eerie creatures, too. Moray eels, squid are now once again commonplace. It is a sign that the bay is as healthy as ever.
The Hanauma Bay experience will be an experience of a lifetime for about 3,500 people on any given day. Yes, crowded it is, but it is certainly still worth the effort. However, regardless of how crowded it is, remember, don't stand or walk on the reef, ever.
Hanauma Bay Nature Preserve
7455 Kalanianaole Hwy
Honolulu HI 96825
Visitor Informaiton Line: 808-396-4229
Hours: 6a-7p summer 6a-6p winter. Closed Tuesdays
Non- Resident Admission: 13 years and over – $7.50, children under 12 – free
Parking: $1 per car
Have you traveled to Hanauma Bay? Visited other parts of Hawaii? Do you have any advice or recommendations for our readers?
Share your feedback in the comment section below