Budapest, one of the most beautiful cities in Europe, is also one of the most historic. Once two cities on opposite banks of the Danube River, Buda and Pest, it became Budapest in 1873 when the two were joined. The history goes back much further than that. The settlement dates back to Roman times and through the centuries as waves of conquerors swept over the area, each left their influence behind as they receded. Magyars, Mongols and the Ottoman Empire all left their mark on what would become Budapest.



The Magyars, who founded the kingdom of Hungary, built the Royal Castle that still dominates Budapest after almost seven centuries. In the early years of the twentieth century Budapest was the capital of Hungary and held a million people. During the Communist Era, Budapest rose up against the Soviets in 1956, and in the late 80s won their freedom. Today, Budapest is one of the wealthiest cities in Europe, and the most cosmopolitan city in Hungary.
Visitors to Budapest will want to seek out the Vaci Utca, the commercial heart of the city for centuries. It offers shopping, sights, and the visible pulse of the city. To relax, visit one of the thermal baths Budapest boasts, and soak your cares away in the hot waters. Budapest is the center of an excellent transportation system, and the second oldest underground Metro in the world. With many Budapest apartments and hotels located in the heart of the city, getting where you want to be is easy. A city full of history, Budapest holds many museums well worth a visit.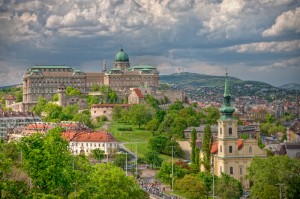 Castle Hill on the Buda side has the Royal Palace, with the National Gallery held inside it, fantastic views of the Danube and the city lying spread out beneath the traveller. Also on the hill are the Historical Museum of Budapest, the Music Museum, the Military Museam, the Marzipan museum, and more. A promenade across the River Danube on one of the beautiful bridges will bring you to the Pest side of the city.
In Downtown Pest you can see the neo-gothic Parliament building, and take a tour inside it. St Stephen's Basilica and the Great Synagogue are both worth a visit. The Eotvos Lorand University nearby boasts a garden where musical performance and food vendors can be found. The Andrassy ut boulevard reaches from the downtown to the City Park and is a world heritage site for all the museums, historic sites, and the State Opera House that lie along its length.
Travelers flying to Hungary and the capital city of Budapest, most likely will be arriving at Budapest International Airport, one the largest and busiest airports in Europe. Once arriving, visitors will find a wide choice of hotels and apartments in Budapest available at reasonable prices.