County Kerry offers some of the most beautiful scenery in Ireland, including three renowned peninsulas that combine stunning views of the Atlantic Ocean, rocky mountains, and open green spaces. County Kerry is the fifth largest of Ireland's 32 counties by area, and it is the 13th largest county by population. It includes Killarney, Dingle, and Tralee, and boasts a thriving traditional Irish culture, including a high population of residents who speak Gaelic.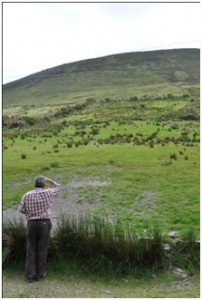 Visitors to Kerry must fly in to Shannon, which is about an hour north. Though there is an airport in Kerry, it is regional. However, visitors will be happy to rent a car, since it will enable them to really explore the rustic county and to take one of its three scenic drives: The Ring of Kerry, the Dingle Peninsula, or the Beara Peninsula. Those without a car will find it harder to get around, as public transportation is not widely available.
Ring of Kerry
The Ring of Kerry is one of the most popular routes, winding 170 km (110 miles) and passing through Kenmare, Sneem, Waterville, Cahersiveen and Killorglin. You can stop along the way and watch sheep herding demonstrations, buy a traditional Irish coffee, tour Iron Age forts, and visit old monasteries. Irish roads are notoriously narrow, often only wide enough for one car. When you find yourself fighting for road space with sheep or negotiating who will be on the road around a narrow mountain pass, the driving can be a bit stressful. Tour buses are available to pick you up from your hotel to drive the Ring, including stops and demonstrations along the way.
Driving the Ring can take only a few hours if you drive straight through, but you should plan to spend a day to really enjoy the sights. Hikers and cyclists can also enjoy the Ring through a pedestrian path known as "The Kerry Way." Finishing the path can take a few days to a few weeks, depending on your pace.
The Dingle Peninsula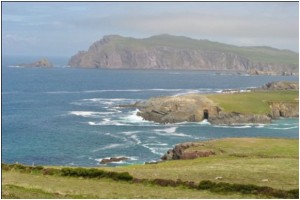 This is the second most popular scenic route in County Kerry, and it is a great route if you are short on time as it only stretches for 50 km (30 miles) from Tralee to Dunquin. The western end of the peninsula, Dunmore Head, is the western-most point in Ireland (as well as Europe). In addition to the beautiful scenic views, the Dingle Peninsula is also home to remains from the Mesolithic period and the Stone, Bronze, and Iron ages, as well as 8th century Gallarus Oratory and Beehive huts.
Other Notable Sights
Count Kerry is home to many other noteworthy destinations. The 25,000-acre Killarney National Park is Ireland's first national park and includes the Gap of Dunloe, the breathtaking Lakes of Killarney, Ross Castle, and the Muckross House, a Victorian mansion known as one of Ireland's most stately homes.
Two of Ireland's three highest mountains can also be found in Kerry, including Carrauntoohil in the Macgillycuddy's Reeks range and Mount Brandon in the Slieve Mish range. Hiking, rock climbing, and cycling are all available.
Just off the coast of Kerry are the Skellig Islands, which include Skellig Michael, a World Heritage site. There is 5th century monastic settlement 700 feet up on the cliff.
Finally, Kerry hosts several notable festivals each year, including Writer's Week, Tralee's Rose Festival, and the Puck Fair, in which a goat is crowned King Puck.
Whether you enjoy beautiful scenery, fishing, quiet beaches, hiking, climbing or water sports, Kerry has something to offer.
Bio: Maria Rainier is a freelance writer and blog junkie. She is currently a resident blogger at First in Education where she's written on online science major programs along with online science administration programs. In her spare time, she enjoys yoga, playing piano, and working with origami.
All pictures are authors personal work.