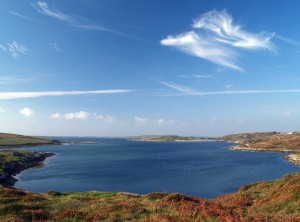 Guest Post by: Bridget Staroscik O'Reilly
They say that sometimes the journey is more important than the destination. I'm not sure just how true that is when the journey is taken late at night, in pitch blackness through a driving rain storm. Still I think that the awe we felt when we arrived in Clifden County Galway, was due at least in part to the road that brought us there. The high drama of the drive had contributed to the awe we felt at the very site of the place. After driving for what had seemed like hours through wind and rain like we had never experienced, on muddy roads that likely only were thought of as roads when they were dry. The night was dark. If we had turned off the car and the lights, we likely wouldn't have been able to see our hands in front of our faces. We didn't turn the car and lights off though. I've see the horror movies, that would just be asking for trouble.
We were tired, hungry and none too happy with each other. Relations tend to become strained when one person is trying desperately to hold the car on the road, with a razor thin barrier keeping the car from the sea, and the other person feels it is their job to inform the driver what they're doing wrong. All things considered, our arrival in Clifden seemed like a gift from God. We had planned to go to Clifden, so getting there wasn't a surprise, just another example of how distances are farther in Ireland. We started out in the late afternoon sunshine with directions, a map and a full tank of petrol. We arrived six hours later with frayed nerves muddy windows and fumes left in the tank. I can't remember when I was happier to see a town rise up from nothing like Clifden did. A wise man once said, Even if any road you take will get you somewhere, many of them may cause you to question the wisdom of going there in the first place. Okay it wasn't a wise man, it was me.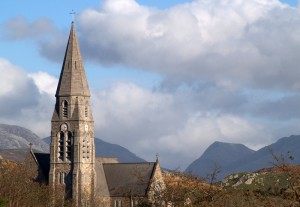 Like many smaller Irish towns, Clifden was pretty well closed up at night and it was all of 8:45 when we arrived there. I was ecstatic to get a room at the hotel on the main street with a parking spot right in front and a restaurant pub across the street. The room we were given was four flights up under the eaves and was barely big enough for the two single beds and one night table that inhabited it. The requisite TV showing a rerun of Popular was attached on a metal arm that came out of the wall… The postage stamp window showed only blackness and I was happy as a clam to call it home for the next 12 hours or so. A word about the US TV show Popular; I think it was Sara Rue's big break, and I saw all of one episode during its whole American run. Still for some reason, every place we stayed that trip got only two channels. One was RTE 1 or RTE 2 and the other was showing a Popular rerun. Come to think of it I may still have only seen one episode of the series; just over and over again. And foreign travel is supposed to broaden your horizons.
For info on Clifden you can visit http://www.clifdenchamber.ie/
Other Ireland articles by
Guest Post by: Bridget Staroscik O'Reilly
Have you any experiences of driving in Ireland? Visited other parts of Ireland? Do you have any advice or recommendations for our readers?
Share your feedback in the comment section below