Guest Post by: HNLhulagirl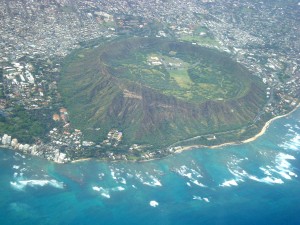 Officially called the Diamond Head Summit Trail, this 1.6 mile roundtrip trail offers a bit of history, a bit of exercise and a huge panoramic payoff at the end of the trail. Unlike most trails in Hawaii, this one is dry, paved in spots and crowded at times. For the mere $5 car entrance fee or the $1 pedestrian entrance fee, Diamond Head offers a hiking experience like no other. Recent park and trail improvements have refreshed and revitalized this important Hawaii icon.
The gates are open from 6 a.m. to 6 p.m. everyday, including holidays. Access to the trail head is easiest by rental car or by public transit.
By bus, board the #58 or #22 Hawaii Kai-Sea Life Park anywhere along the mauka or mountainside of Kuhio Avenue. Walk up the crater road through the tunnel into the crater. To return, stand on Diamond Head Road and wait for the #58 Waikiki-Ala Moana or #22 Waikiki Beach and Hotels bus. Buses run about 30 minutes apart.
By car, follow Monsarrat Avenue from the Honolulu Zoo. Monsarrat becomes Diamond Head Road, and the well marked crater access road will be on the right. Continue through the tunnel, into the crater and park in the parking lot. Remember to lock your car and DO NOT LEAVE ANY VALUABLES in it. Furthermore, remember that any cars remaining in the parking lot after 7 p.m. will be towed away.
It is 0.7 miles, or about an hour to the summit and about a half-hour for the return. The trail climbs along the interior slope of the volcano steadily for about .6 miles, then steeply upward through a series of stairs and tunnels. The first staircase has 79 stairs, and the last has 99.
The crater has a long and revered history. Aside from being one of the largest dormant volcanoes in the islands, it holds a sacred place in Hawaiian history and a heralded military past.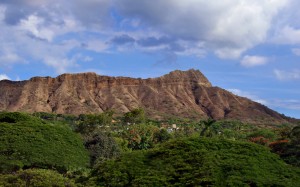 Hawaiians believe that the volcano was originally named Leahi by the goddess Hiiaka. The volcano was used as a navigational guide in ancient times. Torches were positioned along the ridges to guide canoes along the shoreline. Hawaiians also built temples at the summit to appease wind gods and lessen the strong updrafts that frequently extinguished the many torches.
The trail was originally built in 1908 as a part of the US Coastal Artillery defense system and fortification of the landmark. Today there are several artillery batteries still visible along the trail.
Once at the summit the views include the entire southern shore of Oahu, and on clear days, one can see the neighboring islands of Molokai, Lanai and Maui.
Have you traveled to Hapuna Beach? Visited other parts of Hawaii? Do you have any advice or recommendations for our readers?
Share your feedback in the comment section below