Sydney, Australia boasts a plethora of excellent places to dine, and the city is known for its fresh seafood, seasonal vegetables, and top-notch chefs that aspire to create an international reputation for themselves. The surplus of immigrants that call Sydney home, have brought their cuisine with them, and Asian and Mediterranean influences are common in eating establishments within the city, and this fusion of cuisines with the local fare, is regarded as modern Australian food.
Bambu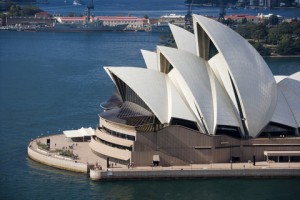 This fusion style eatery is located in the overseas passenger terminal, and boasts fantastic views of the famous Sydney Opera House, offers innovative cuisine, and features a hip cocktail lounge in the mezzanine upstairs. Their offering of harissa, which is a spiced lamb with feta and ratatouille, is a house specialty. Prawns and scallops are also prepared to perfection here, and ornately garnished for a classy presentation. Service here is excellent and meticulous, but the prices are reasonable.
Govindas
For a unique dining experience, consider trying Govindas, which is conveniently located in the Kings Cross area of Sydney Oz. This Hare Krishna restaurant features their world famous, all you can eat vegetarian buffet. The food is quite inexpensive, but it also comes with an additional selling point, which is a free movie that can be viewed upstairs from the dining area.
Edna's Table
For the best authentic traditional Australian cuisine, Edna's Table is the place to go. This family owned establishment offers the fare one might expect while visiting this country, such as crocodile, kangaroo, and native seafood selections. The restaurant is housed in a lovely refurbished historic building, and it is conveniently located near Town Hall.
Waterfront Restaurant
This seafood establishment is housed in an old converted warehouse, and offers excellent views of the Sydney Harbour. Outdoor seating is available, but fills up quickly, because of the awesome views it affords. If it comes from the sea, it is probably on the menu at the Waterfront Restaurant, and they are known amongst the locals as one of the finest eateries in town for great seafood and perfectly aged steaks.
The Gamnut Cafe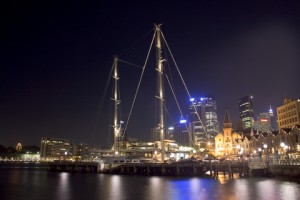 The Gamnut Café is located near The Rocks in Sydney, and is a prime example of modern Australian cuisine. Housed in a cottage that dates to the 1890s, this establishment offers seating both indoors and out, and giant umbrellas protect diners from the harsh sunshine in the summer. The food menu is interesting, and contains fare of English, Turkish, and other persuasions combined with traditional Australian offerings. They also offer hearty breakfast dishes to fuel up before a day of sightseeing.
Rossini
This Italian eatery operates cafeteria style, and offers meals for breakfast, lunch, and dinner. Its location near Circular Quay, make it an ideal place to people watch, and features outdoor seating during times of good weather. The fare is typical Italian, and is often served in huge portions, which are perfect for sharing.
Regardless of which dining establishment visitors choose, Eating in Sidney will offer travelers a variety of choices they are guaranteed to have a great experience. Do not forget, to indulge in the excellent wines that Australia is noted for while eating out, and many places in Sydney accommodate bring your own policies. For more eating places to chose check out My Destination Sydney.
Have you traveled to Sydney? Visited other parts of Australia? Do you have any advice or recommendations for our readers?
Share your feedback in the comment section below