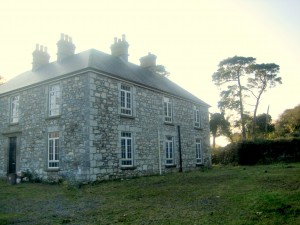 Guest Post by: Bridget Staroscik O'Reilly
Derry Sheridan sits on a slight rise above the shores of Lough Sheelin. If you had first visited the property 10 years ago, like I did, you would have driven down an avenue with so much foliage that the trees on either side met above the road creating a tunnel like atmosphere. This road is simply known as The Avenue, because in Ireland, no fancy names are needed.
That first drive was almost like traveling into a storybook land like Brigadoon. For me it was like traveling back in time, a trip into my father's past. See the house at the end of this fairy lane, Derry Sheridan, was where my daddy was born and where he grew up. This magical land was his backyard. As a child he walked to school through these fields. Like many kids my dad didn't like to wear shoes in nice weather so each day he would kick them off and hide them in the bushes on the way to school and pick them up on the way home. One day as fate would have it, the shoes were gone when he came back.
The first time I visited Derry it was on a trip guided by my reluctant aunt who had herself grown up in the house but felt no sense of nostalgia for it. To her is was far from town and isolated. She was a girl with dreams and a manor house in the middle of nowhere didn't figure into those dreams. It's kind of ironic really since my dreams as a child were always of Derry.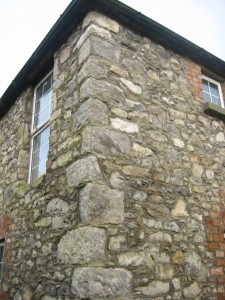 I had grown up on stories of Derry. There were the mysterious lights on the Avenue that would appear out of nowhere to guide my dad and his brothers home when they were late, or on a particularly dark night. The first time they saw the lights they thought it was their father out looking for them, only to find him fast asleep when they reached the house. Like so many things in Ireland the lights were never explained but they fit somehow; ghosts of the past looking out for the living.
The land Derry sits on fronts up to Lough Sheelin which is a well known Irish fishing spot in county Meath. In the middle of the lake sits Church Island, rumored to have once held a monastery at some time in the distant past. Church Island is a place to take a boat or even, for the particularly brave or hardy, a swim over to. A great spot for a picnic on one of Ireland's rare sunny days.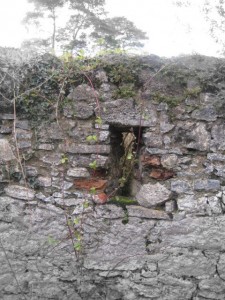 On my first visit to Derry the house was falling down but the wallpaper that my dad had seen on the walls of his childhood, while tattered, was still there. I took some of those pieces and brought them home to show my dad. He remembered the room where each piece had hung. Now Derry has been renovated and someday may be a self catering cottage. It's owned by the people who own Ross House B&B next door which has fishing and horseback riding. So if you go there for a visit, while you walk through the fields keep an eye out for my dad's shoes.
Other articles by
Guest Post by: Bridget Staroscik O'Reilly
Have you traveled the shores of Lough Sheelin? Visited other parts of Ireland? Do you have any advice or recommendations for our readers?
Share your feedback in the comment section below