Guest Post By: Karen Mills
I was in Barcelona for only 4 days but packed in a lot! I flew Ryan Air from Pisa to Gerona for only 130 euro. If you are traveling within the European Union, consider these low cost airlines for some trips! They are very serious about their baggage policy, so please be sure you review it carefully, as violations can be costly!
I found an incredible hotel, Live and Dream, for only 48 euro per night. The hotel is a small boutique hotel, in a great location, and had everything I needed. There are some sitting areas, free wifi, or a computer room for 2 euro per hour. There is an outside terrace with tables, and you can get breakfast for an additional 5 euro per day. It is located at Rossend Arus, 23. It is near the Placa Sants metro station on the red line, so you can get to everything. www.liveanddream.com There are nice restaurants, pastry shops, and shopping in the area.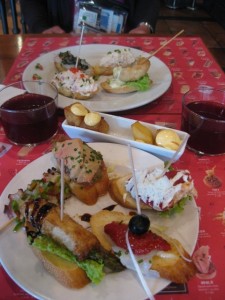 The Barcelona subway is easy to use, clean and convenient. I bought 10 tickets for about 8 euro and in the 4 days had to purchase about 3 more tickets to get to everything I wanted to see. I also did a lot of walking.
When you visit Barcelona, it is mandatory that you eat tapas and drink Sangria. An excellent restaurant for enjoying tapas is called Txapela and is located at Passeig de Gracia,8. These bite size dishes cost 1.50-2.50 euro, so order several and taste away.
You can purchase postcards at many souvenir shops and stamps at the Tabacco shops around town. Stroll down the wide commercial pedestrian street called La Rambla to take in the many sites there. You will find souvenir stands, street performers and busckers, live music, stalls selling flowers and live birds, and places to sit and have a drink to take it all in.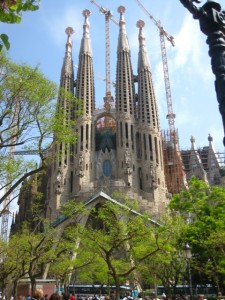 Sagrada Familia, the Gaudi Cathedral that has been under construction for 80 years so far, and is not expected to be completed before 2026 is a must see. If you are an art lover also consider taking in the Picasso Museum and Foundation of Joan Miro. For nature lovers there is the beautiful park of Parc de la Ciutadella . There is a zoological park there as well as the grand Arc de Triomf entrance.
The days start later in Barcelona with most businesses/shops opening at 10. Don't even think about going to dinner before 9 p.m. If you do go at 9, you are likely to be the only one in the restaurant as most Spaniards dine at 10 or 11 p.m. I recommend you try some of the wonderful seafood such as the rice dish Paella. Paella can be purchased in many types such as Valencian, seafood, or mixed. It is considered the national dish of Spain.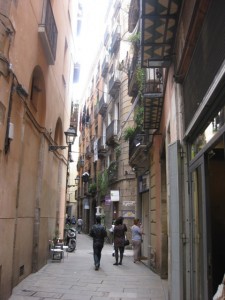 Whatever sights you chose to see, make sure to leave plenty of time to enjoy the music on the street, walk through the Gothic Quarter, and enjoy the pulse of this vibrant, international city. For more information on Florence sites, visit www.anamericaninitaly.com
Karen Mills is an American woman who made the decision to leave her corporate life behind to live "la dolce vita" in Florence, Italy, Read more about her experiences at www.anamericaninitaly.com or contact her at queenkaren0@hotmail.com.
Have you traveled to Barcelona? Visited other parts of Spain? Do you have any advice or recommendations for our readers?
Share your feedback in the comment section below