Guest Post by: HNLhulagirl
In typical Las Vegas fashion, the new City Center complex is a dazzling and stunning new addition to the fabulous Las Vegas strip. Over five years in the making, the latest phase was completed with the grand opening of the Cosmopolitan in mid-January 2011. The complex is by far the largest in Vegas to date and the developers gloat over the fact that it is the largest privately funded construction project in United States history. The project is a partnership of MGM Mirage and Dubai World.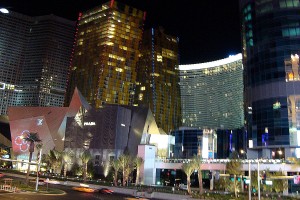 But all has not been glorious. A failing economy, litigation, unsafe working conditions, union walk-outs and project downsizing and delays has made City Center more than just a handful of headaches.
The project hit the drawing boards in early 2000 when the US economy was stable and Vegas was riding a wave of success driven by the discretionary spending of many Americans and international visitors. Nipping at the heels of the massive projects slated for the northern end of the strip, City Center was slated to be the new heartbeat of Las Vegas.
The project broke ground in 2006 and was off to a great start. Then, in the wake of several construction related deaths, unions initiated a work stoppage that drew the attention of many in Washington DC to address the safety concerns of the workers. Federal fines flew, but the work continued.
Then the economy began to shudder to a halt. Funding for the project was in question and the all were very concerned that the project would go the way of the Elchelon and the St Regis project at the Palazzo, both of which have been stalled indefinitely due to economic reasons.
However, revisions were made and the project was scaled back which eliminated the completion of the Harmon Hotel. The Harmon's exterior is completed, but the interior has been abandoned. The hotel is draped in a banner hailing the new Cirque du Soleil Elis show at the Aria Resort and Casino and will serve as a largest billboard on the strip until the economic conditions improve.
Aside from all the difficulties, the complex is a major success. Today the complex includes the Aria Resort and Casino, the Cosmopolitan, the Mandarin Oriental Las Vegas, Veer Towers, Vdara Hotel and Spa and Crystals, the retail and entertainment center. All are accessible by foot from the strip or via a complimentary tram system that runs from the rear of the Bellagio, makes stops at the Vdara, Aria, and Crystals before ending at the Monte Carlo Casino and Resort.
The buildings in City Center all have a stark modern appearance with glass and metal facades. Leaning columns and curving trusses at Crystals and the leaning Veer Towers all seem to defy logic.