As the capital of Germany, Berlin is a bustling metropolis of over 3.4 million people living along the scenic Spree River and flanked by a backdrop of historic buildings, castles, Gothic cathedrals and World Heritage sites. Best known for its rich and robust history, this beautiful and charming city is also host to a nightlife that simply cannot be matched elsewhere. Amongst Berlin apartments and hotels you will find a nightlife just waiting within walking distance.
Berlin is home to perhaps the most diverse and vibrant nightclub scene in the world. Berlin's club scene began underground after the fall of the Berlin wall and became a hotbed for techno music and parties lasting not only all night, but even all weekend as well. Berlin laws do not require clubs to close on weekends, and as a result there is no "set" end to the party.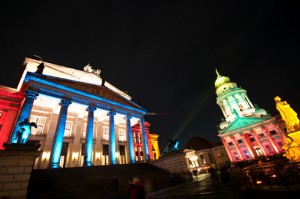 The most famous area in Berlin for nightlife is its Mitte district. The Mitte district has undergone a drastic transformation- once one of the poorest parts of Berlin, this vibrant district is now considered the "soul" of Berlin's nightlife. With beautiful courtyards hosting a vast away of bars, clubs and restaurants, there is never a shortage of fun and excitement to be had in this lively atmosphere.
Another renowned nightlife district in this exuberant city is the Nikolaiviertel district, located at the historic heart of Berlin. This picturesque area is located on the banks of the Spree River and blends a rich, old-world ambiance with the fun and exhilaration of an energetic nightlife. This area offers abundant opportunities for dining, clubbing and socializing against a historic backdrop like no other.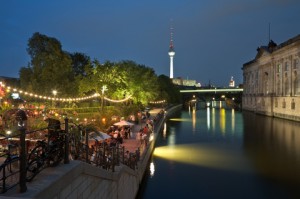 If seeking more "traditional" German fun, head to Victoria Park and experience the lively and fun Golgotha Beer Garden. Located inside the park, the garden does not officially close, and can provide a relaxing place to unwind after an exciting night exploring this city's vast offerings. Rated as the best beer garden in the area, this hot spot offers up local ambiance with fine German brews.
Berlin has a long and robust history, but truly comes alive at night. As one the hottest places for young people in Europe, if not the world, Berlin is host to an amazing array of nightlife hotspots that simply should not be missed. Blending a rich historic backdrop with a vibrant modern culture, Berlin is truly a European gem worth exploring.
If you are spending any time in Berlin on your next travel adventure, you most likely will be enjoying the nightlife the city has to offer. There are numerous apartments in Berlin, as well as Inns and hotels that can put you in the center of Berlins nightlife. For more information on Berlin and surround areas in Germany, check out Beachcomber Pete Travel Adventures travel guides.