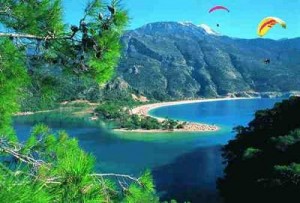 Guest Post by: James Helliwell
There is nothing quite like a cruise, I love the feeling of the waves crashing against the side of the ship as we glide towards many different ports to embark on our travels. Of all the possible destinations, I have always found Turkey to be one of the more exotic and rewarding. Turkey is located at the far eastern end of the Mediterranean Sea and is home to some of the great ruins of the ancient world, as well as some of the best beaches of the modern world. Great cruises to Turkey can be had from P&O cruises so come and get some Mediterranean sunshine!
Turkey has four main ports of call. Dikili is perhaps the best known. It is famous for its resorts and its dark sand beaches. There is more to this town than fun, however; for here are located the ruins of ancient Troy and the rebuilt Temple of Trajan. Dikili is also the gateway for the ruins of Pergamum.
Another port of call in Turkey is Istanbul, an ancient city that has long spanned two continents. It is both the cultural and the economic center of Turkey. Some of the best sights in this amazing city are the Hippodrome and the Grand Bazaar. The latter contains over 4,000 shops and restaurants. The Topkapi Palace is another worthwhile place to visit. This famous palace was once home to the Ottoman Sultans, and contains a display of Ottoman treasures and jewelery. Istanbul is also justifiably famous for its architecture, which includes a mixture of Byzantine, Ottoman, Roman, and Greek styles, among others.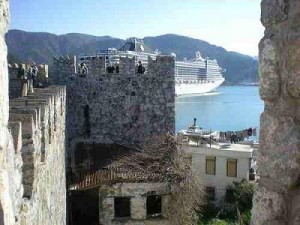 The third common port of call for cruise ships in Turkey is the port of Kusadasi, which gives access to the ancient and ruined city of Ephesus. This city contains a number of ruins, including the Magnesia Gate and the Grand Theater, which once housed an audience of 25,000. This is the theater where St. Paul preached to the Ephesians. This city also contains the Basilica of St. John and the House of the Virgin Mary.
Finally, the magnificent city of Trabzon is the fourth common port in Turkey. This former Byzantine capital still contains a central square and has streets paved with cobblestones. For those not historically inclined there is a bustling marketplace. The silver-blue anchovies for which the city is famed are available here. The quiet and beautiful Sumela Monastery is located outside the city.
There are many cruise lines that visit Turkey, but one I mainly travel on is P&O Cruises. P&O is the oldest cruise line in the world. It is based in Southampton, England, but has cruises worldwide, including ships that visit all four Turkish ports.