Guest Post by: HNLhulagirl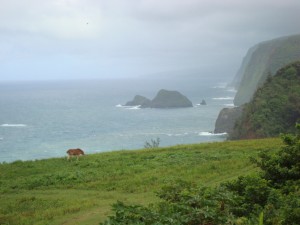 While the mega resorts are clustered near beaches of the South Kohala coastline where the dark lava flows and straw colored brush contrast with the gorgeous cerulean waters of the Pacific and the white sands of some of the most beautiful beaches in the world. As gorgeous as it all is, there is more to Kohala, Hawaii, lots more. Divided into two parts, South Kohala has the beautiful beaches, Hawaii's North Kohala is untouched and scenic. Both have enormous historic importance.
A 4WD is not necessary, a convertible would certainly be nice, but a small SUV or compact car will do just fine. Allow an afternoon or a morning, no less than 3 hours from Waikoloa and 4.5 from Kailua-Kona to insure enough time to wander, picture take, soak up the fresh air and vistas. Combine it with a visit to Spencer Beach for a full day of Big Island fun.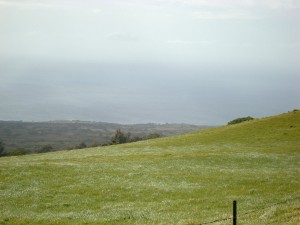 Begin by taking the Queen Kaahumau Highway north, turn right at Kawaihae and head to Waimea then left onto Kohala Mountain Road to Kapaau then right and onward to the end of the road.
To return, head back to Kapaau and continue onward along Akoni Pule Highway to Kawaihae and south toward Queen Kaahumanu Highway. The drive is scenic and easy. Be on the lookout for wild goats and turkeys along the road. Views of the summit of Haleakala on Maui and whales along the coastline in the winter are abundant.
Here are some points of interest along the way:
Pololu Valley
End of Akoni Pule Highway
Niulii HI
Wonderful vistas, optional steep and strenuous hiking trail, small free parking lot.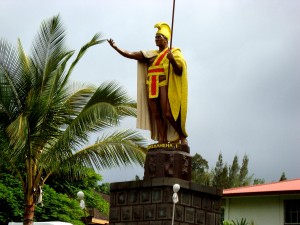 Statue of King Kamehameha the Great
54-3900 Akoni Pule Highway
Kapa'au HI 96755
Quick stop for photos at this iconic statue. This statue is the original, copies are located on Oahu and in Hilo.
Bond Memorial Public Library
54-3903 Akoni Pule Highway
Kapa'au HI 96755
Located across the street from the statue, the books were moved to the new library down the street in late 2010, but the building still retains charm and interest.
Hawi
Located just 3 miles from Kapaau, this former plantation town is now a collection of galleries, boutiques and eateries. It's a great place to have lunch, browse the shops and stretch.
Puukohola Heiau
The largest archeological site in Hawaii, this historic site was the war temple of King Kamehameha the Great. A visit is a wonderful experience in ancient Hawaiian culture and history. Not to be missed.
Spencer Beach
Located next door to the Puukohola Heiau, this beach is one of the more popular spots to swim and sun. Bring lots of sunscreen and water.