Today was spent assembling the bike and the trailer. The bike went together with no problems. Once the bike was checked and short test ride I started work on the trailer. The trailer is a TW-BENT trailer . The trailer seemed to be built very well and went together very easy. Only problem I see is the quick release rear axle seems to have bent or bends when I tighten it down so the rear wheel sits right. I had ordered another axle but as luck would have it, the axle did not come with the trailer. I checked a couple of bike stores here in San Clemente, but again no luck. I see my choices of waiting till Monday to get a hold of TW-Bent and have them Fedex me another spare  and delay my trip by 2 days or go ahead and start the trip and hope it will hold up fine. Worse case is that is breaks in route and I will have to have one Fedex to me. Best case is I make it to Florida with no problems.
Let's go for it.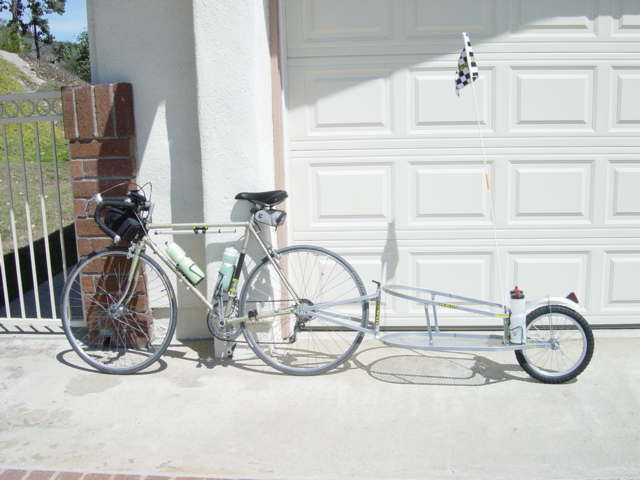 After the bike and trailer where assembled I took a look at my gear, I had 2 duffle bags, same as at Ragbri, the difference this time is no SAG wagon. Trailer is smaller than how it looked in the picture, I checked and it is the same size as the Bob Trailer. So that meant repacking. I got rid of the 2 duffle bags and I am going to use the dry sack that came with the trailer. I dumped the lantern, and will go with just the flashlight. The weight of all my gear is now about 60 to 65 lbs. This is about 25 lbs lighter than the Ragbri trip. I added 2 water bottles with zip ties to the rear of trailer. This should give me about 96 oz of water on the bike.
Shipped the bike case and duffle bags with lantern back to Florida. I guess this means I am kinda of committed to the trip now.