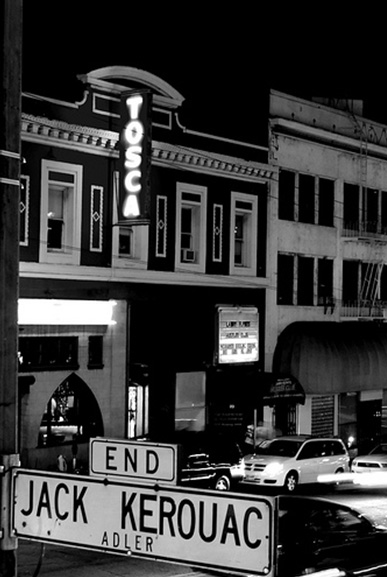 From the infamous 1906 earthquake and the Golden Gate Bridge to Alcatraz and exorbitant real estate prices, San Francisco is well-known for several fascinating reasons. What you might not realize is that many of the greatest 20th century writers have drawn inspiration from what is arguably the most beautiful city on the West Coast. Here is a handful of some the most prominent scribes to have honed their craft in San Francisco.
Jack Kerouac
Born Jean-Louis Kerouac on March 12, 1922, Jack Kerouac is probably the most influential poet/novelist to emerge from the Beat Generation. The father of spontaneous writing, Kerouac wrote about subjects many others in his generation wouldn't dare discuss, including drugs, poverty and Catholicism. His works included "The Dharma Burns," "Mexico City Blues," "Desolation Angels" and "On the Road." Kerouac was born in Massachusetts, although he spent a large portion of his working life in the North Beach area of San Francisco. While there, look for Jack Kerouac Alley — a one-way stretch of road that was once a regular hangout for Kerouac and his friends during his many trips to the area.
Lawrence Ferlinghetti
Dubbed the inaugural "Poet Laureate of California" and founder of the famous City Lights Bookstore, Lawrence Ferlinghetti is a name many in the literary world often associate with San Francisco. Born in Yonkers, New York, in 1919, Ferlinghetti eventually made his way to the Bay Area in 1951. His first few years in the city were spent teaching French and penning now-famous critiques of artists and painters in the San Francisco area. In 1953, he opened the landmark City Lights Bookstore, which later became a publishing company that exposed the masses to some of California's most famous poets and authors, including Allen Ginsberg. Ferlinghetti's most famous work "A Coney Island of the Mind" was published in 1974 and has since been translated into nine languages.
Hunter S. Thompson
Best known for his novels and pieces published in Rolling Stone, Hunter S. Thompson was the granddaddy of the 1960s California counterculture and the creator of a writing style affectionately dubbed "gonzo" journalism. Born Hunter Stockton Thompson on July 18, 1937, in Louisville, Kentucky, Thompson led a typical suburban, middle-class existence during his adolescent years. After a short stint in jail and a brief career in the United States Air Force, Thompson began travelling extensively across the United States. San Francisco's burgeoning subculture became a favourite topic of Thompson's, and eventually the writings evolved into some of his greatest works like "Hell's Angels" and "Fear and Loathing in Las Vegas: A Savage Journey to the Heart of the American Dream."
Amy Tan
Well known for her best-selling novel, "The Joy Luck Club," Amy Tan is a Chinese-American author who was born and raised in Oakland, California. The natural struggles and complexities of mother/daughter relationships is a major theme in many of Tan's works, including "The Joy Luck Club," which is set in San Francisco. Today, Tan is still living in the Bay Area and spends most of her time touring, writing and playing in the Rock Bottom Remainders alongside Stephen King, Dave Barry and Mitch Albom.
Planning a Literary Tour of San Francisco
There are a handful of formal literary tours available in San Francisco, several of which will guide you through a few of the aforementioned authors' residences and former haunts. If you're planning to sign up for a walking tour, begin by researching the company offering the experience, including pricing, availability and the itinerary. Above all else, remember to wear a comfortable pair of shoes and bring along an umbrella and plenty of water before attempting to brave San Francisco's notoriously inclement weather and treacherously steep hills.
You've enjoyed your literary tour of San Francisco but aren't sure if you can afford to lodge in such an expensive city. Luckily, there are a variety of San Francisco hotels to choose from that won't break the bank. You might even stay in the same room occupied by Jack Kerouac, Allen Ginsberg, Lawrence Ferlinghetti or any of the other famous writers who passed through the city.
Image from Flickr's Creative Commons
About the Author: Brian Short is a guest blogger and established poet from Montreal. He's currently residing in San Francisco and working on his sixth collection of poems dedicated to the Bay Area.