With La Malinche volcano serving as a backdrop, the Mexican State of Tlaxcala has the cool, semiarid climate of the Mesa Central where it is located. This densely populated state is Mexico's smallest by area. It has an economy built upon agriculture, cattle raising, and finely made woven handicrafts. The state and its capital both derive their name from the local, pre-historic culture. The current boundaries of the state are similar to those of a native federation that never surrendered to the Aztecs.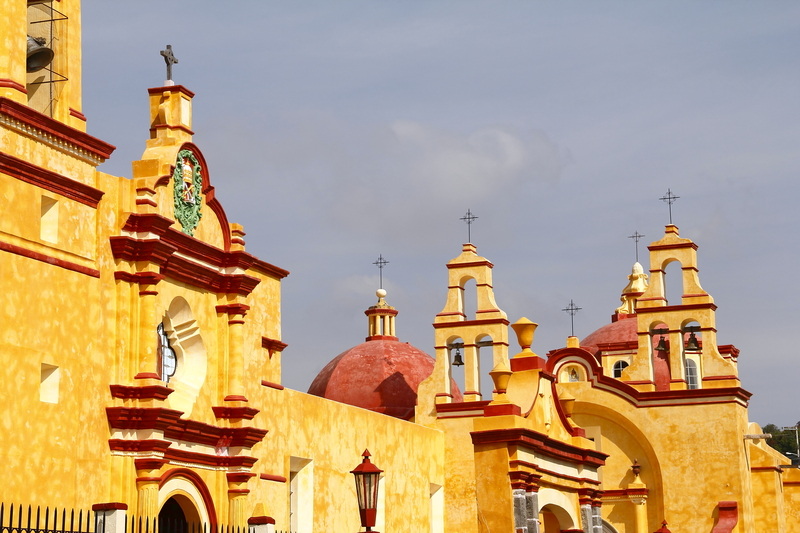 The storied past of the area has led to a vibrant tourist industry. Visitors will see the archeological ruins of Cacaxtla, Tizatlan and Xochitecatl. Archeologists are currently excavating, exploring and documenting these ancient sites. At the time of the conquistadors, the region was a land of grand plazas, palaces and temples consistent with a Post-Classical period, Mesoamerican civilization. The Xochitecatl ruins date from approximately 400 A.D. It is here that you can view the Serpent Pyramid, the Spiral Building, the Volcano Base and what is believed to be the most important structure, the Flower Pyramid.
The Cacaxtla ruins are from structures that were built around the 7th century A.D. This archeological site is larger than that of Xochitecatl. Nearby is the modern town of San Miguel with its amazing murals that adorn the walls of various temples. The Tizatlan site is unique because the ruins consist of adobe brick, which is extremely rare for this time period and location. There are numerous other historical sites worth visiting along with the colonial architecture of the capital, Tlaxcala City.
Although in its infancy, eco-tourism is centered on the La Malinche Volcano National Park. Visitors can mountain bike, rock climb, rappel and horseback ride during the day. At night, you can camp out under the stars after watching the sunset over the panoramic vista from the top of the volcano.
Guests who spend time in the cities of Apizaco, Huamantla and San Pablo del Monte will witness regional festivals that feature dances of masked men who imitate the Spaniards of old and don colorful garb and plumed hats. There are festivals that commemorate historic events and religious holidays. This is an opportune time to sample the local cuisine of barbacoa and mixiote along with regional delicacies of escamoles, maguey larvae and the xoconostle cactus fruit.
Not as widely known as other Mexican destinations, Tlaxcala is a hidden gem awaiting discovery.