Venezuela located on the northern most portion of

South America

is bordered by the

Caribbean

to the north,

Colombia

to the west,

Guyana

to the east and Brazil to the south. The country of Venezuela lies to the north of the equator placing it in the Northern Hemisphere.
Lying along the southern portion of the Caribbean, Venezuela can easily take on the feel of a Caribbean Island, with miles of Caribbean beaches and numerous islands off shore; it is easy to see why the country has taken on a Caribbean flavor. But don't be fooled, Venezuela is still much a part of South America. From its history to the landscape of the country one will find strong ties to the rest of South America.
Due to the low latitude of Venezuela, Caracas, the capital of Venezuela, lies at 8 degrees north and 66 degrees west, and its closeness to the Equator, Venezuela tends to see little change in climate. The country tends to be more tropical, hot and humid being the norm.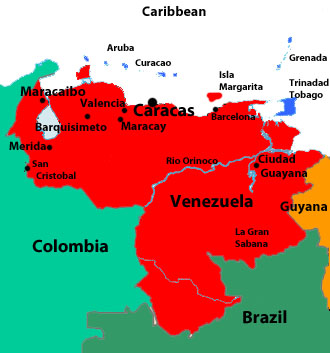 Even though Venezuela lies just to the north of the Equator, one will find many similarities to other parts of South America. Snow capped mountains in the western portion of the country can be found as the start of the Andes mountains head south into Colombia and to the lower portion of South America. To the south, Venezuela shares the northern sections of the hot and steamy Amazon jungle with Brazil. To the east lie the Gran Sabana plateau, large jungle and grass plains giving way to steep cliffs rising to flat table like mountains. It is in the Gran Sabana region that one will find the worlds tallest free falling water fall, Angels Fall, which is believed to have a drop of over 2600 feet. Venezuela also boasts the largest lake in the world, Lake Maracaibo in the northwestern section of the country as well as the third longest river , the Orinoco, splitting the country almost in half as the river flows from the southeastern boarder with Brazil to the Caribbean. From palm tree beaches to the jungles of the Amazon, one will find a variety of plants and animals thorough out the country.


Venezuela was the first

South American

settlement of the Spanish Empire, in what is today called Cumana, the Spaniards settled in 1522. Today, Venezuela is home to some of the most urbanized cities of

Latin America

. Caracas, the capital of Venezuela is situated in a valley at a elevation of 2500 to 3000 feet and is separated from the Caribbean coastline by a 7400 ft mountain range. Over 3 million people live in Caracas; the remainder of the countries 26 million plus inhabitant's live mostly in the northern section of the country. With some of the largest cities being,

Maracaibo

, Valencia, Maracay, Ciudad Guayana , Barquisimeto and the tourist town of Merida. To the north, in the

Caribbean

, Venezuela is home to many world class Island destinations. Margarita Island being the most famous, but not alone, the islands of Los Roques, Las Aves, Las Orchila, La Tortuga and Los Frailes offer many miles of white sand, palm tree lined beaches and clear blue

Caribbean

waters. Situated well to the south of Hurricane tracks, the Islands offer year round trade winds and constant climates.Venezuela