The Thyssen-Bornemisza Museum, Madrid, Spain is an experience that should not be missed when visiting Madrid. This privately owned museum is situated in the area of central Madrid known as the "Golden Triangle of Art." Conveniently located to Madrid apartments and Hotels makes this another relaxing and interesting stop for travelers getting to know the city.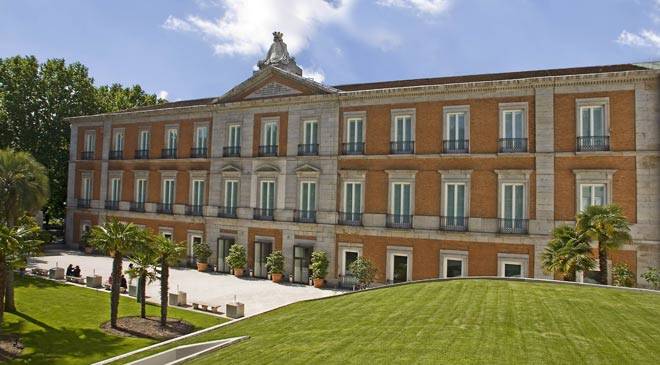 The perfect companion to its neighboring galleries, the Reina Sofia Modern Art Museum and the Prado Museum, which features works from antiquity, the Thyssen-Bornemisza Museum, Madrid, Spain features a wide variety of works that span several centuries. These include masterpieces from the German Renaissance, with both Impressionist and Expressionist styles, Russian Constructivism art and two halls dedicated to 19th century North American paintings, along with various temporary exhibits.
The Museo Thyssen-Bornemisza opened in 1992, with a private collection of works owned by Baron Heinrich Thyssen-Bornemisza. The Baron began collecting great works of art in the 1920s and his son, Baron Hans Heinrich Thyssen-Bornemisza, inherited his father's love of art. The elder Baron's passion for art is evidenced in this exquisite collection of works by the old masters. He amassed 525 paintings from antiquity during his lifetime that are now on display at the Museum. His son, Hans Heinrich, continued to collect ancient pieces, but in the 1960s he began collecting works by modern artists as well, culminating in the Modern Masters' Collection.
Some of the great artists on display at the Thyssen-Bornemisza Museum in Madrid include: Van Gogh, Gauguin, Carpaccio, Van Eyck and Klee, along with many other notable artists. A recent addition to the works on display is the Carmen Thyssen-Bornemisza Collection, belonging to the younger Baron's widow, Carmen. This fabulous collection has been on loan since 2004 to the Thyssen-Bornemisza Museum, and features several hundred paintings and other pieces of fine art. This collection features works by Monet, Boudin, Renoir, Rodin, Picasso and many others.
Works of art are displayed throughout the museum in a format showcasing them chronologically, from the 13th through 20th centuries. Local residents as well as travelers staying in hotels and apartments in Madrid will find the Thyssen-Bornemisza Museum well worth the visit.
Hours of Operation
The permanent collection can be viewed Tuesday through Sunday – 10:00 a.m. – 7:00 p.m. Closed Monday
Saturdays offer extended hours for viewing temporary exhibitions, staying open until 11:00 p.m.
The museum is closed on January 1, May 1 and December 25.
Ticket Prices
Thyssen-Bornemisza Collection admission is 9,00 Euros general admission and 6,00 Euros reduced rate. Tickets can be purchased by phone, online and at the Museum ticket office.
Prices for temporary exhibitions vary by exhibit.
Children under 12 are admitted free when accompanied by an adult.
In celebration of the museum's 20th anniversary, those born in 1992 will be admitted free during 2012.