Szentendre, Hungary, is a quaint town named after Saint Andrew. It is renowned for its homes and churches constructed in Balkan design. The Serb refugees established the town. Currently, the town is famous for its artist and their galleries.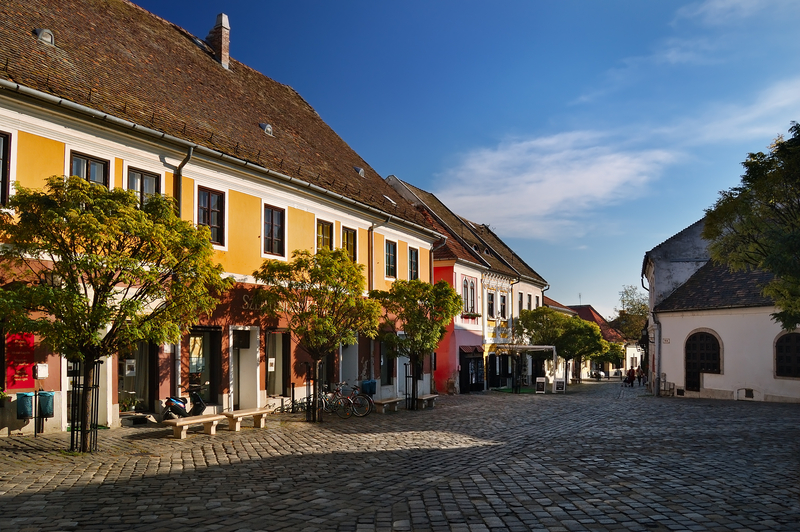 Szentendre is easily accessible from Budapest apartments and hotels by railroad, bus, boat and bicycle. The city is not on the railways run by the states so visitors can travel on the HEV Metro Red line, suburban railway of Budapest from Batthyany ter. The HEV leaves frequently, and the trip takes 40 minutes. Buses leave frequently from Upjest-Varoskapu with the trip lasting approximately 30 minutes. Visitors will find bus links with various towns on the Danube. Visegrad is a 45-minute drive, and Esztergom is approximately one hour. During the summer, from May until September, tourists can journey daily by riverboat from Budapest from either the Batthyany or Vigado square. During April and September, boat trips run on Saturday and Sunday. Bicycle rides are 25 km from the center of Budapest. Riders will find little traffic and a variety of topography.
Visitors to Szentendre can spend their time strolling the streets, taking in the homes and art galleries and visiting the historical sites. Some of these attractions include the Blagovestenska Church that has rococo windows and complex icons and the Memorial Cross, dedicated to the town saved from a plague.
Szentendre has a lengthy list of galleries and museums. The Hungarian Open-Air Museum is a large expanse of land displaying old buildings moved in from the country. These include entire villages with buildings with thatched roofs, homes, farm buildings and churches. Many have been restored and have exhibits. Visitors should get the English guidebooks. The Marzipan Museum is a display made entirely out of marzipan. Some exhibits take in Hungarian relics, the Hungarian royal crown and cartoon figures. Other museums in the city are the Kocacs Margit Collection, Kmetty Museum, Ferenczy Museum and Roman Lapidarium Castrum, among many others.
Travelers will enjoy walking on the streets that wind up to the hill that looks out over the town. Visitors can see the roofs of red slate and the blue angel on top of one of the local churches.
The town hosts a variety of shops to visit. Three shops are worthy of a visit. The Belle Epoque or the Family Run Folk Art Shop sells interior home decorations and genuine works of art of local artisans. These include linens and hand woven towels, old crocheted laces and traditional Hungarian folk clothing. The Music shops advertises local music. Szamos Marzipan Edessegbolt sells marzipan.
Travelers wanting to sample local Hungarian fare before returning to thier apartments in Budapest will find three restaurants. Rab Raby, a favorite tourist stop, with the appearance of a Hungarian farmhouse, is famous for its Gulyas soup. Two other local cafes are Uj Muvesz and Langos.