Located in Western
Mexico
along a large section of the Pacific coastline,
Nayarit
has become a popular tourist destination in recent years due to it's beautiful landscape, wildlife, culture, and largely undeveloped coastal region. From the ocean to its mountains and forests, the state of Nayarit is the perfect getaway for the adventurer or someone looking for a relaxing vacation amid striking beauty.
Running through Nayarit is the Río Grande de Santiago, one of the longest rivers in Mexico, making its way through the Sierra Madre Occidental mountain range. Rich, volcanic soil from its two volcanoes, the Ceboruco and Sangangüey, along with heavy rainfall and varying altitudes, create fertile grounds for a diverse crop of tobacco, sugarcane, and coffee, among many others. With its abundant deposits of gold, silver, lead, and copper, mining is also a significant and important part of Nayarit's industry.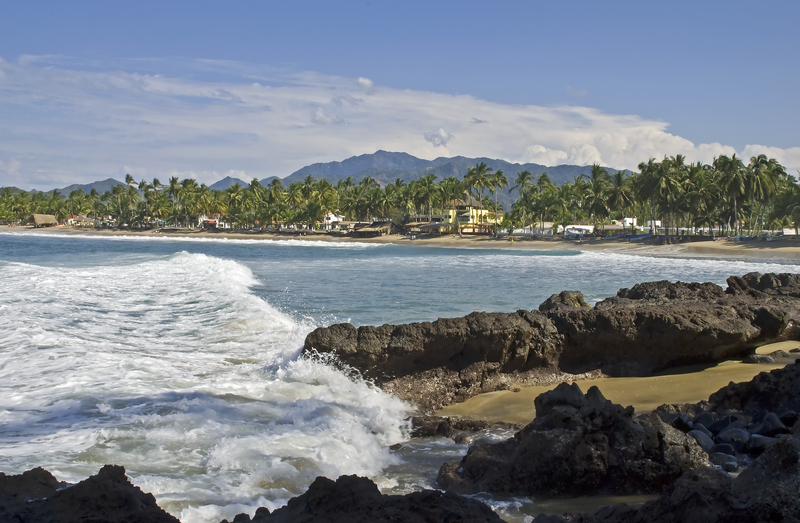 The capital city of Tepic, founded in 1542, is home of many beautiful architectural structures, including the Cathedral of the Roman Catholic Diocese, the Casa de la Cultura (House of the Culture), and the Ruins of Jauja. As in many parts of Mexico, soccer is a huge sport in Tepic, along with tennis and bullfighting.
The largest archaeological region of Los Toriles is a spectacular place for exploration of building columns, stairways, plazas, and other remnants of another time. It is believed that Náhuatl people lived here between 300 B.C. and 600 A.D. Náhuatl was the language of the Aztecs and its original form is all but lost today.
Along the coast of Nayarit sits the Riviera Nayarit, where visitors can swim with the dolphins, engage in whale watching, go deep sea fishing, get close to sea lions, sail, and go diving. For a real rush, zip lining through the jungle canopy of the Canopy Adventure Park is a fun way to see the jungle from a unique and exhilarating perspective, perhaps catching sight of a jaguar or mountain lion. Afterward, a nice sauna or spa treatment is a great way to round out the day.
Visitors can relax on a stunning beach, explore ruins, or get close to nature in the jungles and mountain ranges of Nayarit and carry away with them a vacation of a lifetime. With so much to do, it is the perfect getaway for couples and families. There are attractions for every taste and every budget, and the memories will be priceless.