Japan is an archipelago that is made up of over 6500 islands. Over 90% of its land is made up of its four main islands: Hokkaido, Kyushu, Honshu and Shikoku. Most of the islands consist of mountains and volcanoes; in fact, the famous Mount Fuji, Japan's highest peak, is an active volcano.

Japan ranks tenth worldwide in country population, with 128 million people inhabiting the chain of islands. Tokyo, its capital city, is the largest city in the world, with 38 million people residing in and around its metropolitan area. Most people go to Japan just to see the wonders of Tokyo. The capital city is divided into 23 wards, or sections, each with its own name and government system. It also encompasses some islands. The Izu Islands are a part of Tokyo, and are home to the Fuji-Hakone-Izu National Park. This is where Mount Fuji is located, as well as other national landmarks such as Fuji Five Lakes.

People often say you've never seen a sunrise until you see it atop a mountain peak. While Mount Fuji has several climbing paths, transportation and plenty of places for you to stay, some travelers still prefer to climb the mountain at night so that they can see the sunrise. It is said to be one of the most beautiful natural wonders in the world, and well worth the trip.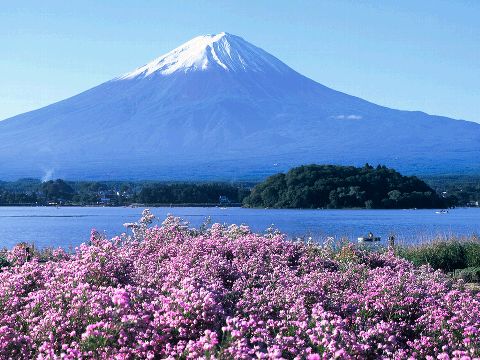 Fuji Five Lakes encompasses the entire area at the base of Mount Fuji. The five lakes at the base were formed by a volcanic eruption, and attract tourists as well as fishermen. The capital city, Fujiyoshida, is famous for its udon noodles, a soup-like dish that's made of wheat-flour noodle and broth. For thrill seekers, you can also find Fujikyu Highland there, an amusement park that houses one the world's highest roller coasters. For a bit of ancient history, there's the Village of Healing, a Japanese village that has been rebuilt to be historically accurate. Aokigahara Forest, or the "Sea of Trees" has ties to Japan's demon mythology; trails leading to the Ice and Wind Cave can be followed and are visited annually.



Tokyo itself holds a rich place in world history. It's subway system is world-famous, and always busy. Not only is Tokyo one of the fashion capitals of the world, but Japan itself is famous for its artistic influence on the rest of the world. Millions of people journey there every year just to visit the anime/manga capital of the world. The Tokyo Imperial palace, home of the Emperor of Japan, also has a home there. Architecturally speaking, Tokyo is the one of the envies of the world; no matter how much rich heritage and earth surround it, it's still viewed as the peak of our modern culture.