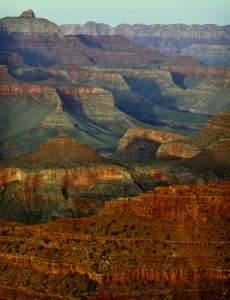 Arizona is one of the most varied states in the United States, with some of the world's most stunning natural desert vistas located just a few hours' drive from urban areas that will delight even the most hardcore city-dwellers. The world-famous Grand Canyon is just one of the many tourist attractions that attracts visitors to this part of the United States "Sun Belt" region.
Arizona's first European settlers were Spaniards who founded Tucson, one of the state's major cities, along with the town of Tubac in the eighteenth century. Eventually, the land that became Arizona was acquired by Mexico after that country declared independence from Spain, and then by the United States in the Mexican-American War. Arizona was actually the last state on the North American land mass to be admitted to the U.S., which finally happened in 1912.
Foremost among Arizona's tourist attractions, and arguably one of the top tourist attractions in the United States, is the Grand Canyon. Carved out of the Arizona land by the flowing of the Colorado River over millions of years, the Grand Canyon's beauty simply cannot be overstated. Even chatty, bratty small children are known to fall silent when seeing the Canyon's enormous grandeur for the first time. One of the most interesting new additions to the Grand Canyon tourist circuit is the "Skywalk," a clear bridge constructed over the ridge of the Canyon by a local Indian tribe. The Skywalk allows visitors to walk approximately sixty feet out and over the Grand Canyon, enjoying even more stunning views.
Arizona's cities and towns also comprise a major part of its charm. Phoenix is one of the hottest major metropolitan areas in the world in terms of both temperature and amenities, with all the restaurants, nightlife, and resorts one could ask for. Tucson and Flagstaff are small, liberal cities with great music scenes, although they could not be more different in terms of climate; while Tucson bakes under the heat of the desert sun, Flagstaff's position in one of Arizona's national reserves makes its climate temperate and even snowy. Additionally, towns like Tombstone provide visitors a sense of what Arizona was like during the "Western" days of Billy the Kidd and Wyatt Earp, making them particularly interesting for children and teenagers. Whether you are looking for natural beauty, U.S. history, or a relaxing resort vacation, you are sure to find what you want in Arizona!