With roots stretching back more than 2,000 years, York, England has been home to Celts, Romans, Vikings, Normans and, of course, the British. Situated amidst Yorkshire's notoriously beautiful dales and wind-swept moors, York is a place where modern pleasures flourish alongside visible outcroppings of the past.
Most of York's panoramic history can be seen by foot. Visitors can walk the circuit of the Roman wall or visit a prominent section of it at the Multangular Tower on the grounds of the York Museum Gardens. Also on the Gardens' grounds are the ruins of St. Mary's Abbey, once the largest and richest Benedictine abbey in northern England.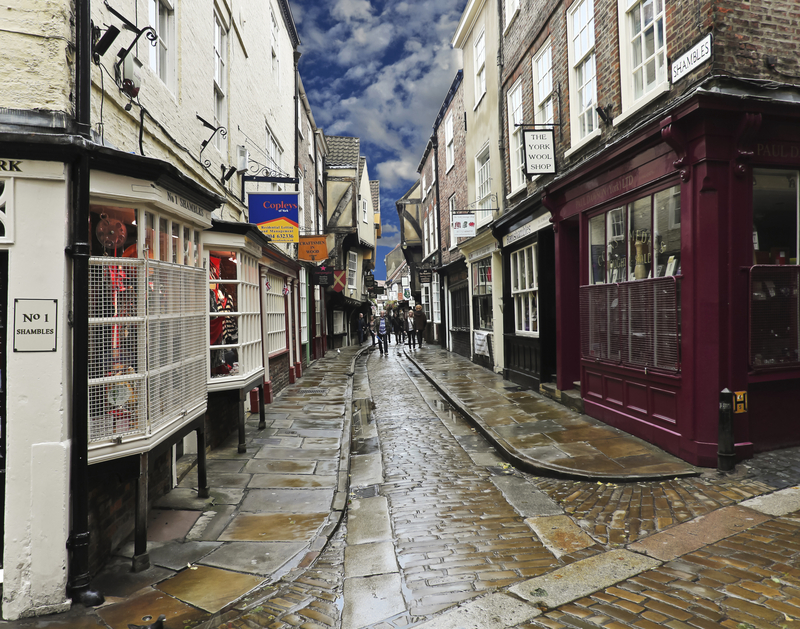 Midway between the Ouse and Foss rivers and built on the site of an old Norse village, the Jorvik Viking Centre blends artifacts and tableaux to give a sense of 10th century life. Near the Viking Centre is Fairfax House, a lavishly furnished and restored Georgian town house.
York Minster is a grand example of a medieval Gothic cathedral, with soaring spires and some of the oldest and largest pieces of medieval stained glass in the world. The Shambles, near the center of town, is said to be the best preserved medieval street in Europe. For a glimpse of how the wealthy lived during this era, Barley Hall is a faithfully reconstructed 15th century residence, complete with Great Hall and exposed timbers. Lost for centuries under layers of brick and mortar, the original structure was rediscovered and restored in the 1980s.
York was a center of railroad activity in the 19th century, and the National Railway Museum has examples of everything from old steam locomotives to Japanese Bullet trains, which visitors can board and explore free of charge. A good place to experience life in the Victorian era is at the York Castle Museum, where visitors can stroll down a lamplit street to the clip clop of a horse-drawn carriage.
For shopping and dining, the pedestrian center of town directly south of York Minster is a prime destination, while further south the Shambles is a treasure trove of eclectic retail. Nearby Newgate Market, with over 100 stalls, dates back to medieval days and is sure to have something for everyone.
Even Yorkshire's heady beauty can be enjoyed within the city. The River Ouse runs directly through York and offers a scenic, leisurely walk in either direction. For those who would rather relax and simply enjoy, boat excursions along the Ouse are popular.