Wyoming,  was the 44th state and is one that offers an incredible assortment of natural resources, including mountains, forests, valleys, bodies of water, plains, ranches and activities such as fishing, camping and rafting. Wyoming is a state of mountains, as its mean elevation of 6,700 feet is the second-highest in the United States. Each of its three largest cities, Cheyenne, Casper and Laramie, are located near or above mile-high elevation. The state is the smallest by population with 563,626 residents, while it is 10th in area at 97,814 square miles.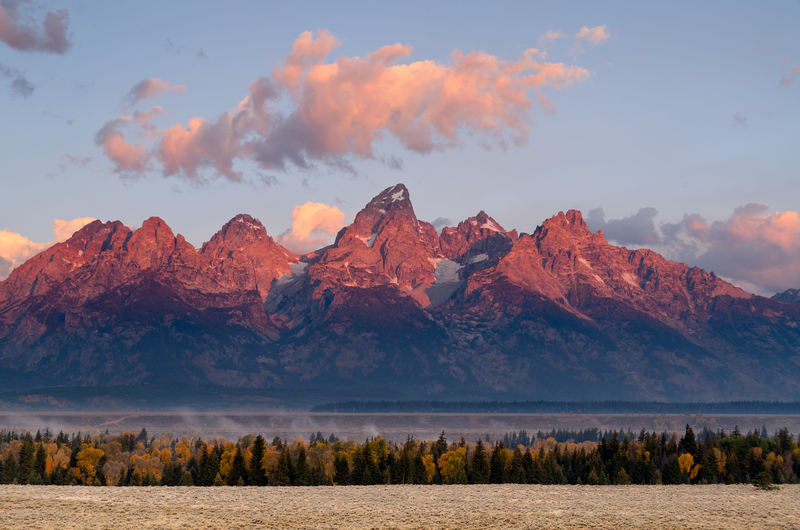 Yellowstone National Park possesses perhaps the most impressive assortment of natural wonders. The world's first national park consists of 3,472 square miles and is located predominantly in the northwest corner of the state with some portions extending into Idaho and Montana. The park, designated as a national park in 1872, is home to wild animals, picturesque scenery and beautiful geysers, including Old Faithful, which sprouts boiling water on average every 90 minutes 145 feet into the air.
Devils Tower National Monument is located in the northeast portion of the state. It is home to a volcanic rock formation that was utilized in the film, "Close Encounters of the Third Kind," in its climatic scene. Also located within the state is Grand Teton National Park, situated adjacent to Yellowstone, and Fossil Butte National Monument, which possesses fossils that date millions of years.
Cheyenne is the largest city with a population of 59,466. This city, the state's capital, is situated 100 miles north of Denver. The Wyoming State Museum is located here. Casper is the second-largest city with 55,316 residents. It is located closer to the middle of the state and is home to National Historic Trails Interpretive Center. Here, visitors may learn about the area's historic trails and their respective places in American history.
Laramie, at 30,816 residents, is the state's third-largest city. It is 100 miles north of Denver and home to the University of Wyoming. At 7,200 feet, the university is the highest that sponsors NCAA Division I athletics. The city is home to the start of Snowy Range Scenic Byway, a 29-mile road that possesses several recreation opportunities. It is one of 20 Scenic Byways located in Wyoming.