The World Showcase at Epcot Center is always one of the most enjoyable areas of the park to visit. The idea behind World Showcase is for visitors to get a general impression of all the countries that represented by pavilions at the attraction. The idea is not to give a literal, exact representation of the particular country. It is more an attempt to convey an impression or general idea of the spirit and culture of the country represented. There are 11 country pavilions for visitors to explore at World Showcase.
World Showcase Plaza
This grand plaza welcomes visitors as they enter World Showcase. The highlight of the area is a giant lagoon that has water taxis that slowly ferry people across the lagoon. In the center of the plaza is a very fun attraction, a series of fountains that visitor will especially appreciate on hot days. Visitors frolic and splash around the fountains all day, allowing themselves to enjoy a real spirit of fun.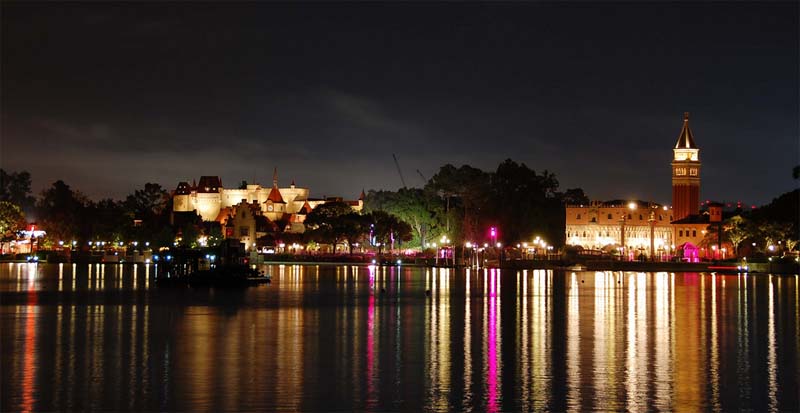 The best parts of the World Showcase are the individual pavilions that make up the park. Here are some of the pavilions that visitors often remark as particular highlights during their tours.
Mexico
The highlight of this pavilion is a giant pyramid that is modeled after an Aztec temple where hundreds of human sacrifices occurred.
Norway
The focus here is on the Viking heritage with the pavilion being built to look like a medieval Viking town complete with a fortress.
China
Visitors will enjoy lots of impressive architecture that is modeled after the Temple of Heaven and the Forbidden City in Beijing.
France
The French pavilion is a recreation of a Paris street view. It features a sidewalk café, fountains and beautiful French architecture. There is also a park where visitors will enjoy taking a moment to rest their tired legs.
Germany
This is one of the most diverse pavilions as there are parts celebrating all 16 of the states in the German Federation. There is lots of great food and shopping here.
Italy
This pavilion is a recreation of the famous St. Marks's Square in the heart of Venice. The gondola rides are one of the highlights.
United States of America
Visitors will find the highlight of the home country pavilion to be the show called "Adventures in America." It has a cast of hundreds and features many of the most famous figures in American History. It is educational and very entertaining.