West Virginia is a very mountainous United States in the heart of the Appalachian Mountains. The state's slogan is "wild and wonderful," so as you can imagine, many people who travel there do so for outdoor recreation. Cold winters and warm summers enable people to enjoy the outdoors in the state throughout the year.
One of the most popular activities in the state is skiing. Snow is plentiful during winter thanks to the state's high elevation. That and an abundance of mountains make for great skiing conditions. Popular resorts include Snowshoe, Winterplace, Canaan Valley and Timberline among others.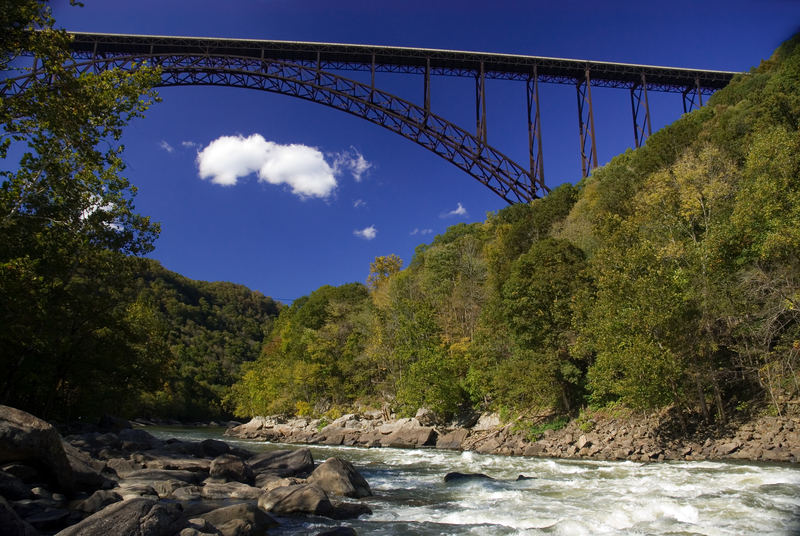 Many locations average more than 100 inches of snow annually. As a result, resorts are able to open earlier in the season and close later in the season than other resorts in the southeast and mid-Atlantic states. While mountains are plentiful, they aren't as high as those in the western United States, so don't expect as large a vertical drop within a resort. Most resorts do, however, have plenty of terrain to keep you entertained.
Another popular outdoor activity is whitewater rafting. A very popular spot to do this is the New River Gorge. Despite its name, the river is one of the oldest in North America. It features class III, IV and V rapids. Numerous outfitters offer guided trips on the river and they range from hour-long to all-day trips. Due to the wild nature of the river, participants are generally required to sign waivers before any guided trip.
The gorge itself is hundreds of feet deep and has exposed rock that is millions of years old. A bridge carries US Highway 19 over the gorge 876 feet above the river. Fayette county holds "bridge day" the third Saturday every October. The bridge is closed to traffic and many people enjoy rappelling and BASE jumping.
The state also has many mountain resorts. The Greenbrier, located in White Sulfur Springs, hosts a PGA Tour golf tournament every summer, attracting some of the best golfers in the world.
West Virginia has many other travel destinations and historical sites. Also, with the mountains and natural beauty, simply driving through the state can be a trip by itself.