Vernazza is a picturesque fishing village in the Cinque Terre region of the Italian Riviera. Founded in 1000AD and ruled by Genoa for centuries, the wealth created from trade is still evident in the town's architecture. This elegant style is exemplified by elaborate doorways, open gallerias and sophisticated arcades. The surrounding terraced olive groves only add to the tranquil ambiance. Vernazza is a collection of colorful and antique homes that cling to a cliff that overlooks a small harbor nestled under the remains of medieval Doria castle, a breathtaking seaside church and the 16th century Belforte Tower.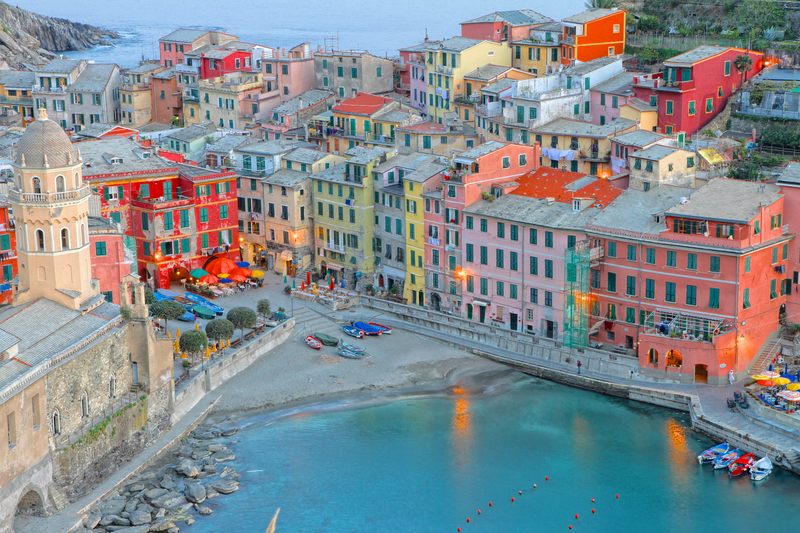 You journey to this charming Italian village by train. The international  Galileo Galile Airport in Pisa is eighty kilometers away. The route provides panoramic vistas as you travel along cliffs overlooking turquoise water and the olive trees that produce the regions renowned oils. The train station is a ten minute walk from the harbor. Your stroll into town is along a cobble stone street that is lined with shops and cafes. The ferry is a fun option in the summer months. The village also closed to vehicle traffic with a parking lot outside of town. With a population of approximately one thousand, is easily accessible on foot.
Visitors should take the trails that lead out of town and into the countryside. The picture postcard scenery will easily confirm why the Cinque Terre is a UNESCO World Heritage Site. Guests will also feel the steep hike worthwhile once they see the Shrine of Our Lady of Reggio on the cliff overlooking the town. For those looking to enjoy a little sun, the small pebble stone beach sits on the only natural harbor in the Cinque Terre region. After a day of sun or sightseeing, enjoy one of the highly recommended therapeutic massages or a mouthwatering gelato. Of course, no visit to Vernazza would be complete without trying a pesto pizza because pesto was created in the Cinque Terre.
The surrounding cliff structures not only enhance the natural beauty of the region, but help create the near constant climatic conditions. There is very little difference between the cool, damp winter months and the warm, dry summer days in Vernazza. With winter lows around 50F and summer highs near 70F, the spring and fall provide the best weather for travelers to the area.
Vernazza is the second most northerly town of the Cinque Terre or "Five Lands". The town's colorful history, painted houses, quaint restaurants and the clear waters of the Mediterranean Sea combine to make Vernazza a favorite destination for tourists.