With a population of over 790,000 people, Thessaloniki is the second most populous city in the country of Greece. Thessaloniki has an extremely long history that dates back to ancient Macedonia. Thessaloniki was founded in 315 BC, and was named after the wife of King Cassander of Macedonia. The city became a part of Greece during the First Balkan War after the Ottoman empire surrendered. Nazi Germany took control of Thessaloniki during World War II, and was eventually destroyed by Allied bombs. The city underwent major reconstruction in the years after the war, and Thessaloniki is currently one of the major hubs of tourism in southern Europe. The beautiful weather and great culture make Thessaloniki a wonderful place to visit any time of the year.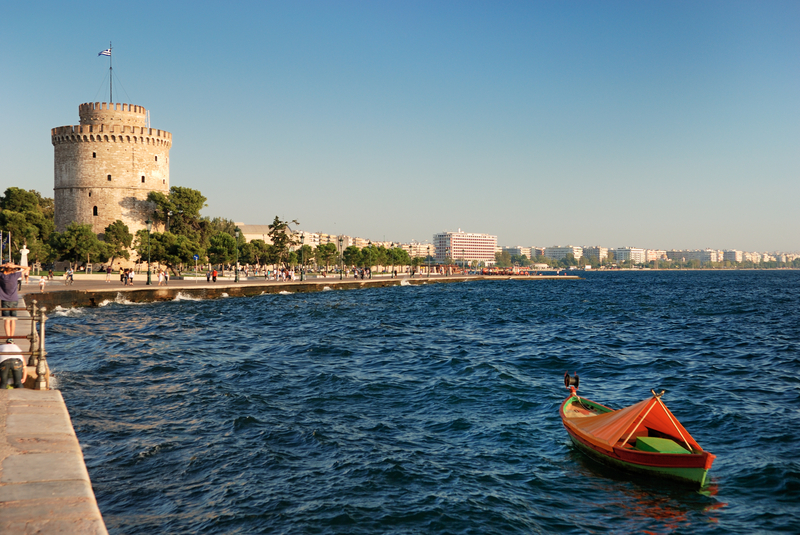 Due to its location near the sea, Thessaloniki has a Mediterranean climate. The summer months of June, July and August can get rather hot in the city. The average high temperatures for this time will usually be between 30 and 31.5 °C. Once the sun goes down, the weather is quite mild in the summer with very little rain fall occurring. The best times for cheap holidays are the spring and fall months of April, May, September and October. During this time, the city features very mild temperatures and not much rain.
The expanse history of Thessaloniki is on display in all of the museums that are housed in the city. Thessaloniki's most visited and famous museums are the Archaeological Museum of Thessaloniki and the Museum of Byzantine Culture. Both of these museums are widely known throughout Europe and regarded as some of the best museums in the area.
The Archaeological Museum of Thessaloniki was established in 1962 and features artifacts of the city throughout its history. Most of the artifacts on display in the museum were found through archaeological excavations of the city. The most popular exhibitions in the museum are the Gold room and the Derveni krater. Most of the gold and the krater were found in the tombs throughout the city.
The Museum of Byzantine Culture was opened in 1993 and features various items that show the history of the Byzantine Empire. There are currently three exhibits at the museum that focus on the early Christian churches and how the early Christians lived. Some of items on display include clothing, jewelery and paintings. Cemeteries and graves of the era are also shown.
If museums are not your favorite, Thessaloniki also hosts various festivals throughout the year that revolve around music, art and film. The Thessaloniki International Trade Fair is the largest of the annual festivals in the city. It attracts more than 250,000 visitors each year and is one of the most important economic events in the area.