Guest Post By: Maria Papadopoulou
One of the most beautiful islands in Cyclades located between Serifos and Milos, about 130 km from Athens' Port, Piraeus, is Sifnos, Greece. Sifnosis considered to be the island of God Apollo, as an ancient temple of Apollo is in the church of Virgin Mary Ouranofora. The main town of Sifnos, Apollonia, is also named after Apollo.
I visited Sifnos with friends last summer, for the first time. We took the ferry which run on the Piraeus-Kythnos-Serifos-Sifnos-Milos-Kimolos line and we arrived at Sifnos in about 4 hours. From the moment we landed on the island, we knew we had fallen in love with it.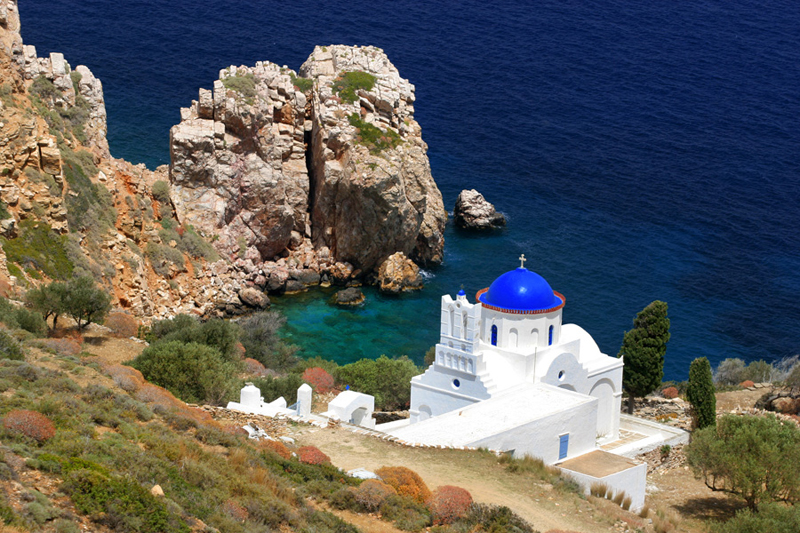 White, cube-shaped houses, paved alleys with limy hinges, courts with traditional white stone benches , churches with white or blue domes and impressive bell towers,  valleys with many olive trees and clean, crystal clear beaches compose the portrait of Sifnos.  Such a breathtaking beauty can impress practically everyone; we were watching  tourists taking countless photographs of the island.
There are so many things to see in Sifnos, that is why I recommend you stay for at least one week to be able to enjoy every little detail.
The Church of the Seven Martyrs is built on a rock, hanging over the sea, offering a spectacular, breathtaking view, especially during sunset and sunrise.
Located 5 km east of Apollonia, on the top of a cliff,  there is Kastro Village, offering a panoramic view of the sea. Kastro is built in the ruins of the ancient capital of Sifnos and is basically the only village in the island of Sifnoswith medieval character.
While in the village, tourists can view old mansions, 16th and 17th century churches, segments of the Venetian fortress, as well as a small archaeological museum.
Plati Gialos Beach is probably the most famous beach in Sifnos, as it offers plenty of water sports and has crystal clear blue waters.  As this beach is crowded easily, it is important to arrive there early in the morning to have a seat.
Vathi Beach is another popular beach in Sifnos. Surrounded by tall rocks, this sandy beach with the amazing azure waters is a perfect destination for tourists who want to spend a more quiet time.
Established in 1650 and located on the top of a rocky peninsula is the beautiful Monastery of Chrissopigi. As it is considered to be the protector of the island, it is very special for the inhabitants of the island.
Sifnos is an island that all people should visit at least once in their lives.