Santorini is one of Greece's most popular islands, and as any visitor can attest, it's easy to see why. The island has gorgeous beaches, whitewashed houses set against the hillsides, breathtaking views, an active volcano, great nightlife, wineries, and plenty of places to eat, drink, and shop.
Santorini has a typical Mediterranean climate, with extremely warm summers, a relatively warm spring and fall, and mild winters. The tourist high season starts in May and lasts through October. During the low season from December to February, many hotels and shops close.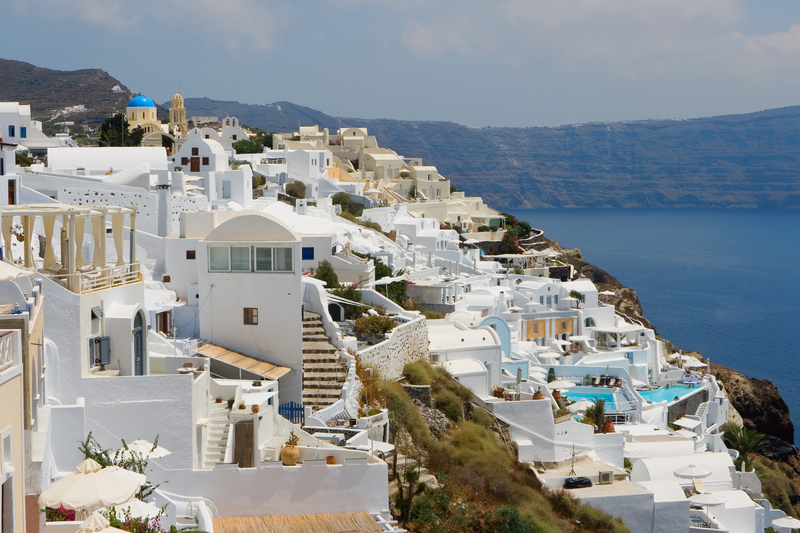 Santorini is easy to reach by plane or boat. Numerous flights leave daily during the tourist high season from cities across Europe, including Athens. Flights can be pricey, though, and often sell out far in advance. For a more economical way to reach Santorini, try a ferry. A high speed ferry from Piraeus takes visitors to Santorini in about four and a half hours.
Once visitors arrive in Santorini, there are lots of things to see and do on their visit. One of the main reasons people go to Santorini is for the amazing views. Whitewashed houses cling to the side of the mountains in towns like Oia, Fira, and Thirasis, and there's a cable car that takes visitors from Fira to the port. If the view of these towns isn't enough, the island is also known for its gorgeous sunsets. Many people also come to Santorini for the beaches. Beaches such as Perissa, known for its black sand, and Kamari, known for its black pebble sand, are incredibly unique and beautiful. In Akrotiri, visitors can enjoy Red Beach, a popular beach due to its red sand and otherworldly-looking qualities, and White Beach, only reachable by sea from Red Beach.
Another place of interest to many Santorini visitors is the active volcano. There, travelers can take excursions to the islands of Nea Kamini and Palia Kamini, both located in the bay that sits within the caldera of the volcano. Walking along the caldera from the town of Fira to the town of Oia is also recommended for its stunning views of the island.
Though it may seem like it, Santorini is not just beautiful views and interesting landscapes. The island also offers a number of historical ruins and architecture that are perfect for the history buff. There are ruins from Ancient Thera, founded in the ninth century B.C., that can be reached by climbing a mountain located between Perissa and Kamari. The island also has two great museums, the Museum of Prehistoric Thera, and the Archaeological Museum.
For those who love to drink wine or want to learn how it's made, Santorini boasts a number of wineries. Volcan Wines Museum & Winery, Art Space Gallery & Winery, Santo Wines, and many others offer tours and tastings, as well as food. Since the island is small, it's easy to take a winery tour during the day and still have plenty of time left for other activities.
>

Greece

Islands of Greece