Santiago, Dominican Republic, is a delightful city to visit. With some of the region's highest mountains surrounding this second largest Dominican Republic city, that allows for tropical forests as well as protection from hurricanes. Santiago is the capital of the Santiago Province and is a major center for industry including rum, cigars and cigarettes, textiles, leather goods, shoes, cement, furniture, and telecommunications. There are four Free Zone centers for the frugal visitors. The Clinica Union Medica, one of the country's largest medical centers that serves all of the thirteen wealthy El Cibao provinces, is also located here.
Santiago was founded in 1495 when the Europeans began to colonize the New World and were attracted by the fertile lands.
The neoclassical Cathedral de Santiago was built in 1895 by a local architect and has beautiful stained glass windows. It houses tombs of the tyrant Ulises Heureux as well as heroes of the Restoration. Admission is free to this religious site.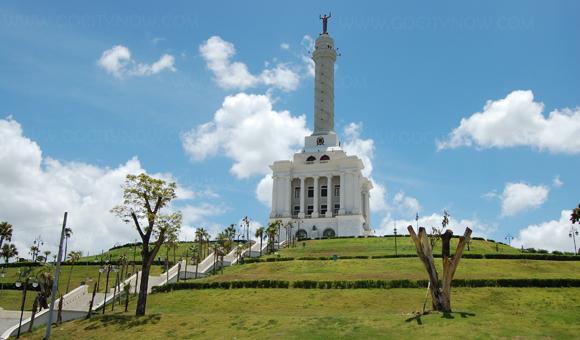 The Monument to the Heros of the Restoration is a gorgeous marble monument high on a hill in the middle of Santiago. Then dictator Rafael Trujillo ordered construction of this in the 1940s as "Trujillo's Monument to Peace." However, after his assassination in 1961, it was renamed to honor heroes of the Independence Restoration War of 1863 that regained independence from Spain. Along with a magnificent view of the city from an observation deck located 151 steps up, this monument also houses a collection of works by the Spanish muralist Vela Zannetti.
The Kaskada Water (Aqua) Park is the perfect place to cool off and have some fun. As well as two swimming pools, there are six water slides, three that require extra-cost tubes and three that do not. The highest slide is about three stories tall and has a tubeless steep drop. There is a large water playground for young children with small water slides, shallow water, cute characters, and things to climb on. A "get wet" area allows children or older people to climb around and get sprayed with cool water. Food in the park includes a buffet or a large pizza or a hot dog. There are six bars scattered throughout the park, and one of them is located right in a pool so you don't have to get out of the water! Another bar has pool tables. Music is played in three different areas, and there is a stage area and bandstand.