The city of Salerno, Italy is one filled with a rich heritage and a unique past. Once briefly the capital of Italy, this port town is located in Campania, along the Mediterranean Sea. Located just next to the renowned Amalfi Coast, Salerno is an important tourism destination for the area. Over 145,000 people call the city home, and countless more visit each year.
The city of Salerno is easy to get to, making it ideal for visitors. Many international visitors choose to arrive at the nearby airport, Capodichino. Otherwise, there are plenty of train stations, buses, or even boats that can transport you from nearby cities. Rental cars are available from nearby transportation hubs, and driving along the beautiful winding coastal roads can be a fascinating experience in itself.
The history of Salerno stretches back as far at the 9th century BC. The Oscan-Etruscans settled in what is now Salerno, although the Romans were the dominant power in the area beginning in the 2nd century BC. The Romans called their settlement Salernum, which is where the modern day city derived it's name. It was a thriving Roman city for centuries,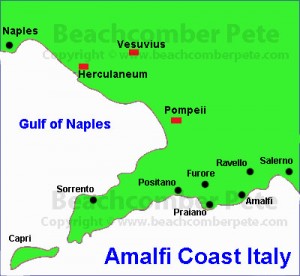 before falling to empires like the Lombards, Normans, Hohenstaufens, Anjou, and Napoleon until ultimately being unified as part of Italy in the 19th century. In more recent history, Salerno was briefly the capital of Italy, taking over from Rome, for a few months in 1944. Italy's King Victor Emmanuel III lived in the town, bringing recognition and honor to the city of Salerno.
Although Salerno is a port city that transfers over 7 million tons of goods each year, the local economy is based almost exclusively on tourism. Yachts bring in many wealthy visitors, and the Amalfi Coast is a renowned holiday destination for celebrities, businessmen, and jet setters. With incredible local cuisine and luxury international hotels, the city caters to visitors, making each feel welcome and a part of the Italian culture.
Countless historical sites and significant landmarks mean there is always plenty to see and explore in Salerno. Perhaps the most beautiful attraction is the Duomo, or Cathedral. The Salerno Duomo was built in the 12th century AD, and is dedicated to Saint Matthew. The belltower is a magnificent feature, covered in panels depicting scenes from the life of Jesus. The connect crypt is the tomb of Saint Matthew. Other significant historical landmarks include several palaces and medieval churches, as well as striking monuments. The promenade, or Lungomare Trieste, stretches for five miles along the shore and is dotted with exotic palms. The city makes for an exciting and relaxing holiday, with gorgeous weather year round and a welcoming population.