Riomaggiore, Italy is part of the area known as Cinque Terre. The area is part of the rustic Italian Riviera and is comprised of five cities: Riomaggiore, Manarola, Corniglia, Vernazza and Monterosso. The history of Riomaggiore and the Cinque Terre area sounds as if it could have been ripped from a movie script. The area along the coast was dangerous and uninhabitable until around 1000 A.D. due to the large population of pirates, marauders and slave traders prone to frequenting the area. After the establishment of several Italian cities nearby it became safe for the area to be populated and, thus, was born the five towns of Cinque Terre.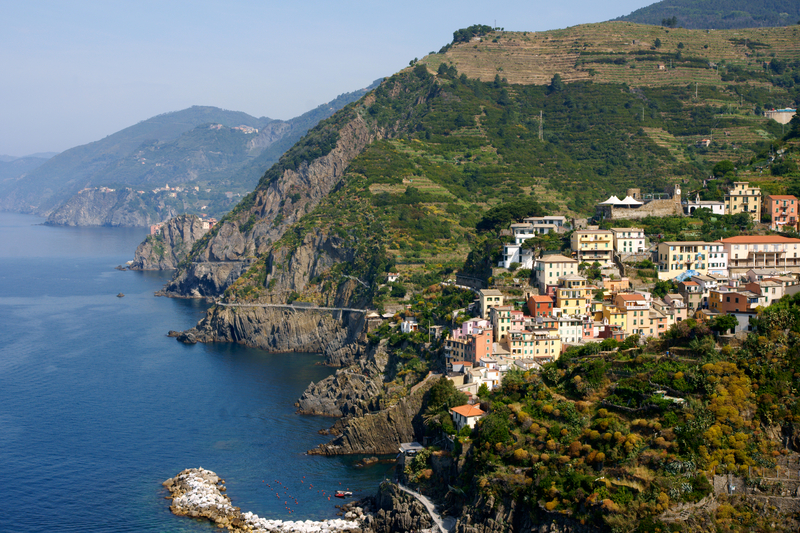 Today, Riomaggiore is a quaint tourist stop somewhat off the beaten path of busy and popular Italian tourist destinations. The town is known for its vibrant, colorful buildings as well as the Sciacchetrà wine that is unique to this coastal area. Travelers visiting Riomaggiore and the rest of the Cinque Terre will find that taking in the amazing scenery of the natural surroundings as well as the rustic beauty and charisma of the architecture can take up a great deal of time. The breathtaking ocean and cliff views are magnificent both from land and sea. To view the town from the water, simply seek out one of the many boat and water sports rental services available throughout the city. When enjoying the view from dry land, don't miss the area's terraced fields, a unique, man-made addition to the local landscape. Riomaggiore is home to the castle of Riomaggiore which was built in 1260 and, today, is a must see tourist delight. There are several churches in town which are also architectural wonders from the past and should not be missed.
The main street in Riomaggiore is a great area to visit with quaint shops, restaurants and other travel destinations. Riomaggiore is also home to a diving center, perfect for seeing the amazing ocean views from a completely unique perspective. To get a true sense of the local culture and lifestyle, explore the streets that stray away from the main tourist area and discover the shops, cafes and restaurants frequented by locals. When staying in Riomaggiore, guests can choose from a wide variety of apartments, hotels, bed and breakfasts and hostels for accommodation. Staying in town will give travelers the ability to experience some of the local night life in one of the many bars, restaurants and special wine bars.
Exploring Riomaggiore and the rest of the Cinque Terre is a great way to experience rustic, small town Italy. Riomaggiore is a great destination for travelers who want to avoid large crowded areas and really experience Italy like an Italian. The amazing scenery and vibrant culture of Riomaggiore give the town a life of its own. Tour the Cinque Terre, take in the breathtaking scenery and share a bottle of Sciacchetrà with friends in Riomaggiore.