Geologically older the Alps, the Pyrenees Mountains are a wonderland for the outdoor adventurer and sightseer. Ideally situated between France and Spain, The Pyrenees mix breathtaking scenery with a rich blend of cultures and history, making it an exceptional place to visit.
The most important factor in your Pyrenees discovery is that the mountains are not uniform; they change as you travel from west to east. The flora and fauna in the west are similar to what you would find in central Europe, while the eastern mountains have a more Mediterranean flare. As you travel the new east-west foot paths, you will also experience cultural differences between Catalonia in the east, the Basque region in the west, and several other distinct ethnic groups in between. The Pyrenees are several destinations in one.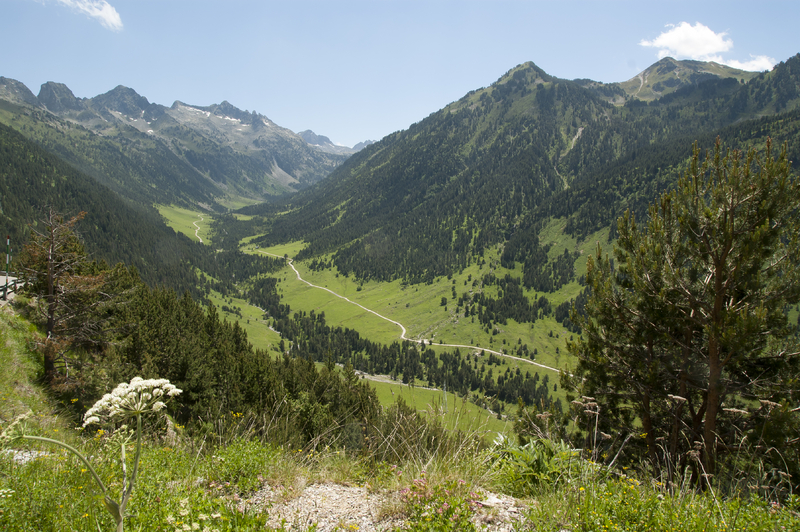 The opportunities for outdoor adventure are just as diverse. Cyclists can ride some of the same routes as the Tour De France and the Etape de Tour. Hikers can immerse themselves in the picturesque countryside as they follow the foot paths that wind through the mountains. Anglers will be enthralled by the bounty of well-stocked mountain streams that host many international salmon and trout fishing tournaments. Those looking to get wet can experience the thrill of a whitewater rafting trip. And when summer gives way to winter, experience the skiing and snowboarding in Font Romeuin, Baqueira-Beret, or one of Andorra's popular resorts. There is exceptional snowboarding and skiing in the Pyrenees. Whether your interests are biking, hiking, rafting, climbing, or skiing, the Pyrenees are a hidden gem awaiting discovery.
For those on a more relaxing holiday, walk through the breathtaking scenery, soak up the ethnic cultures, discover the areas fascinating history, or treat yourself to a day at a health spa. Visit the Vulture Look-Out Center and observe the Golden Eagle with awe as it soars over one its last remaining European habitats. Enjoy the local ethnic cuisines, listen to folk music and watch traditional dances at one of the many festivals or sample some fine local wines at a vineyard near Pau. Travel to Cirque de Gavarnie and view the stunning waterfall or to Grotte de Gargas to see the prehistoric hand prints or the various paintings at Niaux. Stop by the ancient Cathedral of St Bertrand and enjoy the ornate wood carvings and the dramatic vistas. After a day of sightseeing or skiing, soak in the healing waters of a natural hot spring. These springs have been revered since the eighteenth century. Whatever you choose, you will have the perfect Pyrenees holiday.
Stretching from the rugged Basque Coast in the west to the sandy Mediterranean shores near Barcelona in the east, the Pyrenees have something for everyone. Whether surfing Europe's best-known breaks on the Atlantic, taking a pilgrimage to Lourdes, running with the bulls in Pamplona or enjoying a festival in a traditional mountain village, the Pyrenees will amaze you with its character and charm.