A small town that once played host to the British Open in 1951, Portrush,  is a resort town in on the edge of Northern Ireland. The name Portrush comes from the Irish Port Rois, which translates to Promontory Port, and it features three sandy beaches. The city itself sits on the Atlantic ocean which makes for a perfect place to have a get away. Over the years, the town has become an ideal vacation destination, featuring history from many different centuries as well as beachside attractions and activities.
Similar to many towns nearby, Portrush started out as a fishing port. The city was built nearby the Dunluce Castle, a now-ruined medieval castle built in the thirteenth century. The city is rich in history even before the castle was built. Where the Royal Portrush Golf course now calls home, there was once a terrible battle between the Irish and Vikings. In 1103 the King Magnus Barefoot was slain by Irish Clans. In the 20th century, the area became a resort town. Portrush was a popular stop for passenger steamer ships which were much like the cruise ships of today. The beaches are lined with Georgian style houses built by the wealthy in the last century.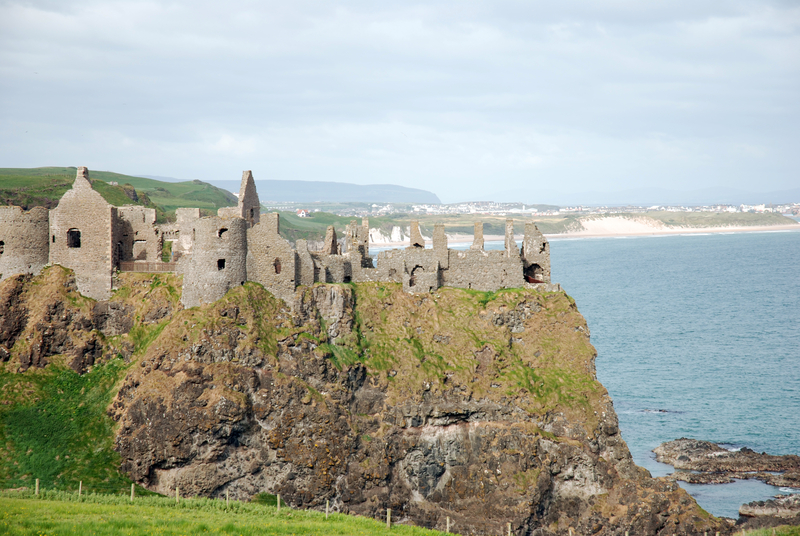 Today, the coastal town remains a popular vacation destination. While the area has a lot of history, there are activities for everyone. Royal Portrush Golf Course, is one of the top courses in the world and was the host of the 1951 British Open. The beaches are popular surfer destinations and can easily become crowded when the waves are perfect. Portrush also offers the best nightlife in Northern Ireland. The Kelly is an entire complex dedicated to nightclubs and bars, and it often attracts some of the biggest DJ names in the world. The beaches host a variety of music events and festivals throughout the year.
The weather in Portrush is similar to the rest of the United Kingdom in that has a very mild climate. The winter months are more chilly than cold and it averages in the 40′s during the day. In summer time, the temperatures average at around 60 degrees fahrenheit, but there tends to be more rainfall during the summer months as well. The best time to head to Portrush for a vacation would be anytime from April to July. During these months, the Northern Irish town experiences the most sunshine and the least rain.