Nestled along the southwestern coast of England, Plymouth, England is one of the country's best and oldest known ports. Sitting near the mouth of the river Plym, in the county Devon, Plymouth has been the site of trading activities since the Bronze Age. The fine natural harbor and mild temperatures have made the city an ideal port throughout its recorded history.
Plymouth's importance as a port has also made it a strategic point during wartime. During the English Civil War, the town was besieged unsuccessfully by Royalist forces. Once the Restoration brought King Charles II to power, the Royal Citadel was built, with cannon facing outward toward the ocean and inward toward Plymouth.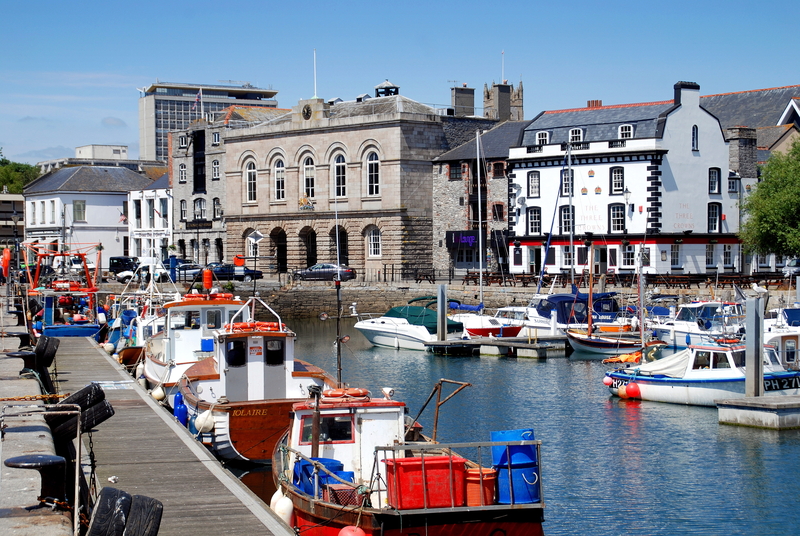 Plymouth was a target for heavy bombing during the Second World War, and more than a thousand civilians were killed there. Many homes and other buildings were destroyed, and Charles Church was heavily damaged. The church still stands though, as a monument to the city's endurance during wartime. The Plymouth Naval Memorial, on Plymouth Hoe, commemorates the men who served and died in the British navy during the two World Wars.
Sir Francis Drake was born near Plymouth and later became the mayor of the city, though his fame stems from his maritime exploits. Many of his voyages began in the harbor at Plymouth, and according to legend, he was playing a game of bowls at Plymouth Hoe when the Spanish Armada was sighted off the English coast. The National Armada Memorial stands on the Hoe to commemorate the English victory.
Drake is not the only prominent resident of Plymouth. Other well-know people who lived here include Lady Nancy Astor, the first woman to take a seat in Parliament, and Robert Scott, the Antarctic explorer. Visitors may also want to take a look at some of the older houses of worship in Plymouth. One of them, the Plymouth Synagogue, is the oldest standing Ashkenazi synagogue in England.
Plymouth is also well know as the point from which the Pilgrims left England to sail across the Atlantic. The Mayflower Steps monument now commemorates the event, almost 400 years later.
Plymouth is more than just history though. The National Marine Aquarium, located near the Mayflower Steps, provides a showcase for the sea life that inhabit the waters beyond the harbor.