Pisa, Italy is a city of around 90,000 people located on the western coast of central Italy in the Tuscany region . Its position on the Ligurian Sea and the proximity of major rivers has given it a long, rich history of culture and maritime power. While it is known primarily for its famous leaning tower, the city of Pisa has many other sights and attractions for the visitor or tourist.
The history of Pisa goes as far back as the 5th century BC, and possibly further. The first evidence of occupation places Etruscan origins on the city. The city is even mentioned in Virgil's Aeneid as a thriving port of the time. During Roman times, Pisa became a primary base for naval expeditions, a tradition that would stay with it for more than a thousand years. All the way until 1290, when the Pisan fleet was finally defeat by the Genoese, they maintained control of the water with their impressive merchant fleet and navy. Pisa is also famous for being the birthplace of Galileo.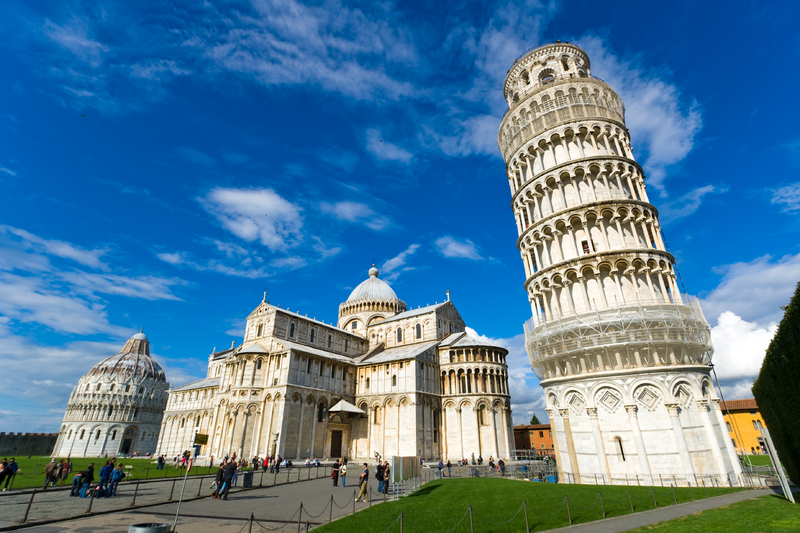 Pisa has a long and illustrious tradition of architecture. From its origins to modern day, each era saw new construction and many of these buildings still stand as testaments to the prowess of their builders. The most famous of these is, of course, the leaning tower. Built as a bell tower for the cathedral, the construction of this building began in 1173, though it did not finally see completion until 1319.
Aside from the leaning tower, there are many other wonders of architecture, including palaces, a host of historic churches of varying styles and eras, and the University of Pisa, which boasts an academic tradition dating all the way back to 1343. The Piazza del Duomo is the largest baptistery in all of Italy and is a wonder to behold. Knights' Square, also known as the Piazza dei Cavalieri, was once home to the Order of the Knights of St. Steven. There are many museums throughout Pisa as well.
Pisa has a variety of tours for visitors to take, including bus tours, walking tours, boat tours along the rivers, and even segway tours. The coastline of the area is made up of stunning cliffs and small beaches for those that enjoy the natural scenery. Camping is even available for those that prefer the outdoors to a hotel.
Getting to and around Pisa is easy using the Galileo Galilei Airport, buses, or trains. There are a large number of hotels that vary in prices ranges and themes to match any tourist's needs. With thousands of years of history and a reputation as a top tourist location, Pisa, Italy is a must see for lovers of culture, architecture, and art.