One of the most iconic architectural structures of Italy is part of this famous Piazza dei Miracoli, Pisa Italy or la Piazza del Duomo. That iconic building is the Leaning Tower of Pisa. The historic piazza is spectacular with its lovely green grass and treasured architecture. The hallowed features of the piazza that draw visitors from all over the globe are the baptistery, the duomo, the bell tower and the cemetery.
People come to see this lovely place for many reasons from just desiring to step foot in such a famous location to needing to photograph the site for extra credit on a school report or multi-media presentation. When they arrive, the scenes before them are captivating. Therefore, visitors soon understand why the square is considered the most beautiful piazza in Italy and even the world.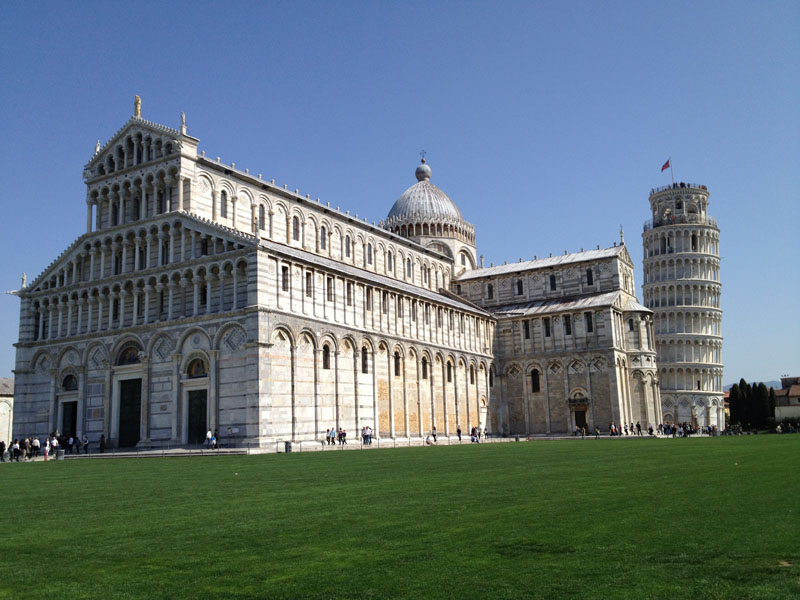 This square has been a World Heritage Site since 1987. In Pisa, Italy, the spot is named la Piazza del Duomo or the "Cathedral Square." However in 1910, an Italian author and poet wrote concerning the piazza describing it as a field of miracles under Heaven. The thought took hold and the piazza has become known as Piazza dei Miracoli.
Those visiting observe the Romanesque design style and the architectural details on the buildings' exteriors and interiors. The Duomo was constructed starting in the mid-1060s. The Baptistery began rising in the mid-1100s. The Bell Tower, Campanile or the Leaning Tower of Pisa as it is better known was built in the late 1100s. Then, the Campo Santo or monumental cemetery building in Gothic style was constructed beginning in the late 1200s.
The spacious green grassy areas and the dominating historic structures are impressive. No matter how many people are in the square at the same time, no one feels crowded because of the immensity and the presence of the sacred edifices. Although the features are placed in opposition to the natural order of time as exists in the pathway of the sun across the sky from east to west, the west to east layout of the piazza represents the seasons of life.
Consequently, visitors can take the journey of birth to death as they tour the square. The baptistery represents birth, the duomo is the lifetime, the bell tower is like life's culmination and the cemetery is death. The inspiring walk can bring new inspiration and perspective on living.