People outside of Ohio may know it best for the Rock and Roll Hall of Fame in Cleveland, right on Lake Erie. It is fitting that the shrine to rock and roll music is here since a Cleveland deejay coined the term "rock and roll" in the 1950s. This hall of fame has been featured on the television show "American Idol" as well.
Professional sports teams in Cleveland include the Indians, the Cavaliers and the Browns. Cincinnati has the Reds and the Bengals. Columbus has the Crew and the Blue jackets for soccer and hockey, so the major sports are covered in Ohio.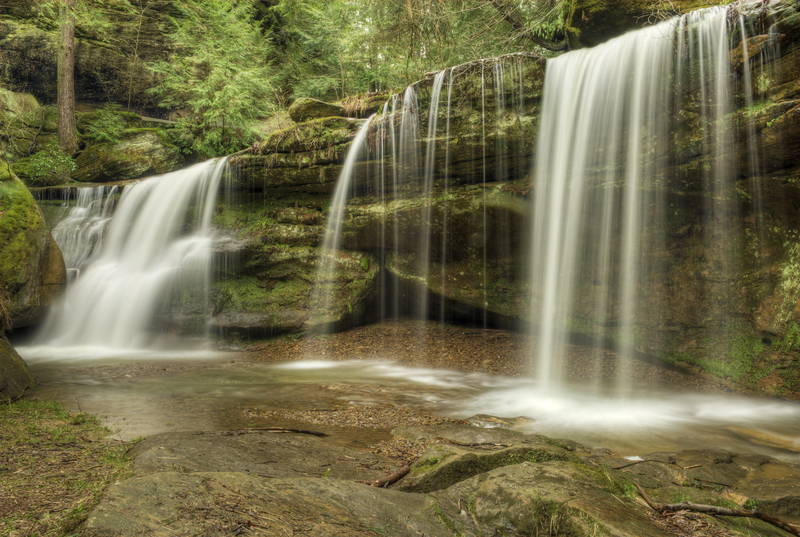 Ohio history is significant in the development of the country, and the outdoor drama, "Tecumseh," dramatizes the Native American struggles with encroaching white settlers in the late 1700s as Ohio became more populated. The drama production takes place in Chillicothe, OH from early June through the end of August in the southeastern part of the state.
The Hocking Hills in the Appalachian foothills are located about an hour southeast of Columbus, the capital. Natural caves, waterfalls and high ridges in forest settings make hiking and camping fun and visually rewarding. The visitor center in Laurelville will provide any and all information that visitors need to see their chosen sites. There are many beautiful lodging possibilities in this scenic haven.
Columbus, the state capital, is also the home of The Ohio State University Buckeyes football team. Many professional football teams have players that attended OSU and the team can claim six Heisman trophy winners, including Archie Griffin who won it two years in a row. That has not been done before or since he won the trophy.
Another Columbus attraction is the zoo. Jack Hanna, director emeritus, has made many appearances on the David Letterman show with zoo animals to promote their preservation. He built up zoo attendance decades ago, so there is year-round visiting and holiday events.
Another outdoor attraction in Ohio is The Wilds, just outside of Cambridge on the far east side of the state. Open May through October, this preserve for endangered species has over 9100 acres for the 15 different species and 130 animals. African, Indonesian and Asian animals of all sizes roam the land, sometimes close enough to a tour for great photographs. There are 10 zip lines for a unique view of the animals.
Travelers will find Ohio has attractions all over the state.