Nice has long been known as a significant part of the French Riviera. The sunny, warm Mediterranean climate and the blue waters of the bays could do no less than attract visitors, millions of them. Nice is the second most popular city in France, only after Paris, and has the scenery of dreams. Ascending from the bay, the city lies on the hills above the sea, ending in the mountains of the Ligurian Alps. The perfect climate is mild all year round, not too hot in summer and not too cold in winter.
Batted between France and Italy for centuries, Nice was finally claimed by France in 1860. Decades before, it was a resort spot where English aristocracy spent winters in the later half of the eighteenth century. The Promenade des Anglais, the walkway along the shore, was built for such visitors by beggars who came from the hills looking for food. This structure is the object of many photos of the area. Another familiar site is the Hotel Negresco on the Promenade built in 1912 by Henri Negresco. It remains a luxury hotel to this day.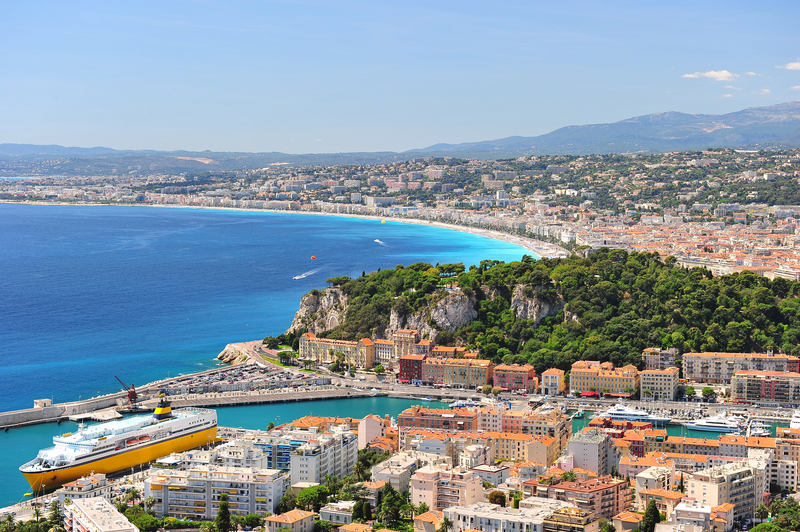 The cuisine of the Mediterranean is featured in Nicoise cooking with olive oil and anchovies, among other delights. Local seafood and French wines are incorporated into local fare, naturally. Foreign cuisines are available as well in the Place Massena parallel to the Promenade in the downtown section. Restaurants, cafes and small shops provide all sorts of gratifications here, including gelati and other desserts. The Place Massena, a large open square, is also the site of many concerts, festivals and celebrations in the warmer months.
The Nice Jazz Festival, since 1948, has hosted just about every big name in jazz since its opening, including Louis Armstrong, Lionel Hampton, Dizzy Gillespie, Ella Fitzgerald, Ray Charles, Herbie Hancock and Miles Davis. It is held every July for eight days and nights with multiple stages going all at once in the Jardins de Cimiez. A Roman amphitheatre graces this location.
Other cultural activities include touring the Henri Matisse Museum and the Marc Chagall Museum, both artists having favored Nice for it's soft light and clear air. The National Theatre, opera house, concert halls, casinos and convention centers offer several forms of entertainment beyond the aforementioned stellar possibilities. Many travelers simply enjoy walking, basking in the sun and swimming, surrounded by the delightful Nice weather and spectacular views.