The town of Nettuno is most famous for being a stunning and sandy beach resort, located along the Tyrrhenian Sea on the coast of Italy. Just an hour's drive south of Italy's capital city of Rome, Nettuno is the perfect distance to have a beach getaway for a weekend or perhaps even an afternoon, making it a beloved destination for local residents in the area. Aptly named for the sea god Neptune, Nettuno has a rich history and interesting historical landmarks in addition to the relaxing and warm shores for which it is known. It makes an ideal day trip from Rome, or even a place to spend several days if you are after a calm and peaceful vacation from the hustle and bustle of nearby Rome.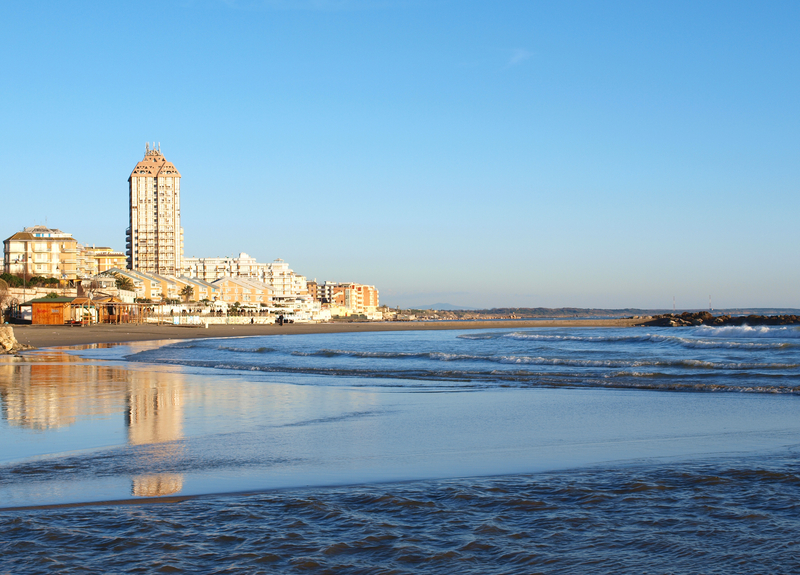 The history of Nettuno stretches back to the 9th century AD. It was founded at that time by the Saracens, a term used to describe those Romans who had lives or who were originally from the region of Arabia. The Saracens saw the potential for Nettuno, and built up the town along the sea. In the years that followed, the city thrived. Architecture went up that is around to this day, including the famed Borgo Medievale, an old quarter complete with narrow streets and medieval buildings. In 1503, work was completed on Nettuno's most important piece of architecture, a medieval castle called Forte Sangallo. It was designed by the well known Antonio da Sangallo the Elder. Other important buildings include the 17th century villa by the name of Villa Costaguti-Borghes, which is privately owned but can be toured to this day, and the wall that surround the city and provide protection should there be invading forces from any direction.
The city of Nettuno has been a mecca for religious groups as well as immigrants in the past. Pilgrims in centuries past headed to the shrine of Saint Maria Goretti, located above the crypt where she is buried. On the first Saturday of every May, the patron saint is honored with parades and church celebrations within the town. In recent history, it was an immigration port for many Jewish immigrants leaving the Soviet Union and eventually ending up in Israel. The town of Nettuno was where they waited between the two destinations, and as such had an influence on the local culture.
Today, the town of Nettuno is best known as a beautiful, peaceful and enjoyable beach holiday destination. A calm harbor allows boats to dock, and many recreations boats and yachts drop anchor in the stunning waters. An exclusive yacht club and inviting restaurants, shops and more make it a wonderful place to spend the day or even find accommodations and enjoy several days on vacation.