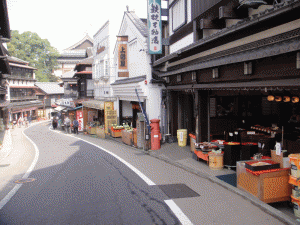 Narita is a small, relaxed town that provides authentic Japanese sights and atmosphere. Many travellers arrive in Japan via the New Tokyo International Airport about 15 minutes from Narita. The town is also less than an hour drive or train ride from Tokyo.
The city's streets and lanes wander through the town's old wooden buildings and interesting residential alleys. Just outside town, visitors can explore ancient bamboo and pine stands, rice paddies and farmhouses. Several shops offer a variety of wares including unique souvenirs. Narita is home to a number of family-owned eateries serving traditional dishes at an affordable price.
The town's most visited attraction is the expansive Narita-San temple complex. This temple is over 1,000 years old and is visited by over ten million people every year. This is an important location in the Buddhist Shingon tradition. Festival days at the temple are celebrated on January 1 and February 3 and 4. The complex showcases traditional Buddhist culture and aesthetics with opulent shrines, traditional Japanese gardens, and several temples and meditation halls. Narita-San is easily reached after a short walk from Narita City Station.
Narita is easily explored on foot, with four major districts surrounding the central city area. Central Narita is bordered by the Narita-San Temple, Narita City Station, and Keisei Narita Station. Omotesando, the main road in this area, is lined with hundreds of small shops offering traditional goods and services. Narita New Town, west of Narita City Station, is a residential area that houses the majority of the city's residents. Many residents commute to Chiba City, Tokyo, and other cities.
South of Narita New Town, Kozunomori is another suburban area that is popular with foreign tourists. The enormous Ito-Yokado store is a main attraction here. To the east of town, Narita International Airport is situated in an agricultural area known as Sanrizuka. While the city's farming population has dwindled considerably since the airport's construction, the area is still populated by some farmers. Other land in this area has been used to build golf courses.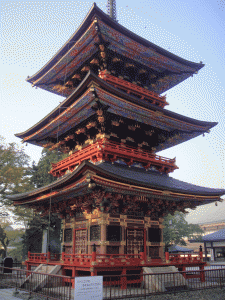 Other interesting sights in Narita include the Chiba Prefectural Boso Fudoki-no-oka Museum. The museum houses clay Haniwa figures and the preserved skeleton of prehistoric Nauman elephants excavated in Chiba. Shiseki Park is home to a group of preserved ancient burial mounds, known as kofun.
For more vibrant entertainment options, experience one of the regular festivals that bring the city to life. The Taiko-matsuri Festival each spring brings hundreds of traditional taiko drummers to the largest drum festival in the area. The Gion-matsuri Festival is celebrated in the summer, when scores of floats and traditional musicians parade through the city with objects of worship.